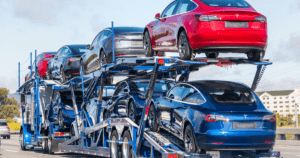 If you got a new job in another state, one of your first thoughts might be to ship your car. The process, at first, may appear very intimidating, especially when you plan to do it all by yourself. However, that is why vehicle transport companies exist – to relieve you of the burden. They are here to help you move your car to your new location without a hitch.
The popular terms in the auto transport industry include auto transport brokers, auto carriers (or truckers), and car dealerships. However, the auto transport industry has key terms and players you need to know before engaging any of its services. This knowledge will help you understand how vehicle transport works in the U.S and other countries.
This article will provide everything you need to know about vehicle transport and auto shipping. Whether you need information on how to ship your vehicle or how much auto transport costs, this article provides in-depth answers to your questions.
How Does Vehicle Transport Work?
The car shipping broker is an intermediate between the customer and the carrier. They are the perfect middlemen between the car carriers and customers. A car transport broker will ensure that you get the best quotes from their network of trusted carriers.
On the other hand, the carriers do the actual moving of your vehicle. It is also worth knowing that auto transport carriers, not brokers own the trucker that moves cars. They may exist as individual carriers or a company, and they are in charge of driving your vehicle to your desired location. The vehicle transport drivers are also known as truckers.
Vehicle transport companies usually provide vehicle transport services to car dealerships, new car buyers, snowbirds, luxury cars shippers, inoperable cars, state to state auto shipping, cross country auto shipping, college students, military personnel, and auction houses both locally and across the country. They coordinate the seamless shipping of your vehicle.
How to Ship a Car
Vehicle transport companies are responsible for domestic auto transport or international vehicle transport. The company will also let you know the transportation methods – either open car carrier transport or enclosed car transport. Shipping a car can be a walk in the park when everyone involved plays their part.
They may also present to you the option of selecting either door-to-door shipping or terminal-to-terminal shipping. These methods have their perks and shortcomings, but your choice will depend on your car shipping needs.
Terminal-to-Terminal Auto Shipping
Terminals are in large cities and metropolitan areas across the United States. Carriers prefer this auto shipping method because vehicle terminals are more accessible to locate than remote areas.
Vehicle transporters can ship up to ten cars at once to terminals for shipping. However, when opting for terminal-to-terminal shipping, make sure you are available or have someone ahead to drop off or pick up your vehicle at the terminal.
Door-to-Door Shipping
Your car carrier will bring your vehicle straight to your doorstep with this shipping method. However, some car carriers do not opt for this method because trucks may be difficult to maneuver the roads at remote locations.
However, delivery could be faster because the car doesn't have to wait at the terminals. Likewise, it could also be the cheapest if there are storage fees for the terminal-to-terminal shipping.
Open-car Transport
Open car carrier shipping is more economical. When you choose to use open car carrier transport, the car carrier puts it on a long, multi-car carrier. It comes in either two-level or single-level trailers). This mode of shipping works for most cars. However, it might not be the best option for luxury and exotic cars due to the exposure to dirt, debris, and weather elements.
Enclosed Transport
Enclosed transport is best for luxury or highly valuable cars. Cr carriers ship these cars in a fully enclosed trailer. These hauling trucks are more secure but usually cost more than open carrier car shipping. Your vehicle is protected from harsh weather conditions and debris with this method.
When moving your car across the country, it's best to ship a vehicle to/from these economical locations. Carriers avoid remote areas because they may find it challenging to get a car to ship when traveling back.
How to Choose the Best Auto Broker?
Auto brokers make car shipping very seamless because they connect you to car carriers. If you are getting your car ready for auto shipping and you need the best auto transport broker, there are a few things to consider.
Ensure that your auto shipping broker is registered.
Not all vehicle transport companies are out there for ethical reasons. Therefore, you have to check before you schedule your vehicle transport thoroughly. Please pay attention to their customer reviews to ensure they are registered and BBB accredited.
Check for all these things before you even contact the auto transport broker. You don't want to walk right into an apparent auto transport scam.
Make sure the auto transport broker is bonded and insured.
Besides being a registered company, your auto broker also has to be bonded and insured. Your auto transport broker might cover any liabilities that might occur during transportation. You should confirm if the broker you are dealing with is registered with a regulating body such as the Federal Motor Carrier Safety Administration.
Metti International is a trusted auto broker because we are bonded and licensed with the Federal Motor Carrier Safety Administration. We are also a three-time finalist with the Better Business Bureau (BBB). We provide the best services to meet our client's needs.
Red Flags in the Auto Transport Industry
There are certain red flags to pay attention to when searching for the right auto company. Some of these indicators are glaring and require no expertise to uncover, such as lack of business address or identity.
Another indicator is when a carrier shows up without inspecting your vehicle or without the bill of lading. It is a signal showing that there might be no insurance to cover your car in case of damages. Make sure that the carrier fills the bill of lading before you release your vehicle.
Some car shipping brokers offer overly low costs for shipping and guaranteed shipping date. These are the key red flags you should avoid when shipping. Also, refrain from dealing with vehicle transport companies that offer deals that sound too good to be true.
How Much Does Vehicle Transport Cost?
Several factors affect the cost of domestic auto shipping or international auto shipping. Some key factors to consider when calculating the cost of shipping your car are location, type of vehicle, and shipping method.
The distance between your pick-up location and destination vastly impacts auto transport prices. However, terminals make it easy for carriers to drop cars en route or pick up cars when returning. You can choose terminals or metro areas as your pick-up and drop-off locations instead of remote locations. Check with a reliable auto transport broker to get a quick quote or make other inquiries.
The vehicle size determines how much you'll pay to ship your car. The height and weight of the vehicles are two significant factors that affect shipping costs. The rule of thumb is that heavier vehicles and inoperable vehicles cost more.
The shipping method you choose affects car shipping costs. Enclosed car shipping costs more than open carrier auto shipping. It protects your vehicle from debris and other weather elements that may damage the car.
Your car has additional protection with enclosed trailers, unlike open trailers. One of the causes of the recent heightened shipping costs in the auto transport industry is the supply chain disruptions. Not only did this affect the auto transport industry but also consumers.
How to Prepare Your Vehicle for Shipping
Moving your vehicle from one city to another requires ample preliminary preparation to achieve seamless shipping. You have to know what to expect from the carrier and what to expect from the auto transport broker, including other industry players.
When you know the right question to ask auto transport companies, it is easier to communicate well with each player without mixing up their roles and functions. For instance, the carrier is supposed to conduct pre-and post-shipping inspections of your car. You have to be carried along the process.
Furthermore, schedule your pick-up and drop-off locations ahead of time. Ensure that the car transport company is also aware of the vehicle condition. This process can help them prepare well to meet your delivery conditions. You also have to prepare your car well before moving; you don't want to forget valuables in your vehicle during shipping.
When preparing your vehicle for shipping, you might be considering how to minimize cost. Here are some easy ways to save money during vehicle transport:
Open car carriers are the most cost-effective auto transport method
Ship during off-peak periods (this works best when you are not in a rush)
Terminal-to-terminal vehicle transport helps you save more
Conduct vehicle inspection before shipping
Work with a reliable auto transport broker
How Long Does It Take to Ship a Car?
The turnaround time for shipping a car within the country depends on several factors. A detailed understanding of these factors will help you prepare well for the auto shipping experience, such as when to expect your car. Other factors include:
Pick-up and drop-off locations
The farther away from your destination spot, the more time is required to ship your car. You may want to schedule your delivery destination near major metro areas to lower shipping costs and delivery time. It would be best to consider terminals for your pick-up and drop-off locations.
The holidays are one of the year's busiest periods, and shipping may take more time during those periods. However, apart from the holidays, winter is primarily one of the best periods to ship at low costs for non-migratory people.
The type of vehicle you wish to ship may also affect the turnaround time. For instance, modified pick-up trucks cannot be shipped using regular carriers. So, these pick-up trucks with their heights modified are often transported using flatbed trailers.
Why Should You Choose a Reliable Auto Broker?
There are some widely-held misconceptions about the shipping industry. For instance, "cheaper quotes are always the best." Although the auto transport broker endeavors to get you the best deal, low quotes don't always equate to an exceptional quality of service.
It would be best to consider using a reliable auto broker. They are professionals who connect you with trusted carriers. The advantages of using a car transport broker include the excellent rates they provide through their broad network of car carriers. Attempting to find a carrier all by yourself is an arduous task. It increases your chances of falling into the wrong hands.
Car shipping brokers are the central point responsible for creating shipping plans organizing and managing the shipping process. They also help establish smooth and seamless communication between you and the carrier. Since it may be challenging to reach carriers on the road, a vehicle transport broker facilitates the whole shipping procedure.
Metti International can help coordinate your vehicle transport to all major metro areas in the U.S. They are the18 largest counties in the country, which includes:
Hillsborough County, FL, USA
San Diego County, CA, USA
Sacramento County, CA, USA
Los Angeles County, CA, USA
Palm Beach County, FL, USA
Miami-Dade County, FL, USA
Riverside County, CA, USA
Cuyahoga County, OH, USA
Broward County, FL, USA
Cook County, IL, USA
Suffolk County, NY, USA
Kings County, CA, USA
Harris County, TX, USA
Maricopa County, AZ, USA
King County, WA, USA
Alameda County, CA, USA
Bexar County, TX, USA
Clark County, NV, USA
San Bernardino County, CA, USA
How Does Seasonal Fluctuations Affect Car Shipping
The season you decide to ship your car significantly affects the cost and delivery time. Firstly, you should consider using vehicle transport companies if you move with your family to another location due to seasonal changes.
Most people move from the north to the south during winter and return in summer. However, driving yourself down south is not always as easy and may even cost more due to expenses like food, gas, lodging, etc.
You don't have to go through such hassles. The best move is to contact the car shipping company to help you with timely car shipping.
Another reason why you may not want to consider driving yourself is that the snowbird season (October till February) is always strenuous. It is a hectic period for the auto industry. Moreover, the logistics demands of moving a car in such a weather condition could be daunting.
So, if you want to employ the services of a car shipping broker, you have to schedule your shipping a week or more from major holidays. Vehicle transport rates are usually high, and delivery may take longer. Also, many truckers are taking time off from work during the winter season.
Vehicle Transport During Snowbird Season
Some major cities that people move from in the snowbird season include the northern states like New York, Connecticut, New Jersey, Massachusetts; mid-western states like Wisconsin, Minnesota; and Northwestern states like Oregon and Washington. Snowbirds ship to central Southern states like Arizona, Texas, Florida, and California. Shipping cost increases when shipping from Northern to southern states during snowbird season.
Metti International handles auto shipping for snowbirds moving to Arizona, Texas, California, Florida, or traveling north. We help you save a great deal of time, energy, and stress without having to worry a bit about moving your car anywhere.
Vehicle transport rates are always lower in February and towards the end of March. However, prices begin to spike when spring approaches and people return to the north. As mentioned earlier, it's best to schedule your vehicle transport one week or more ahead of these seasons.
How to Ship a Car Cross Country
Cross country shipping entails moving a car from one end of the country to another. It usually covers about 2,000 miles from East to West and about 1,300-1,500 North to South.
Whether you need to ship your vehicle through an auto transport company from New Jersey to Florida or From New York to Florida, Metti International is here for you. These simple steps will guide you when shipping cross country:
Contact a Reliable Vehicle Transport Company
As mentioned above, there are certain key features to look for in an auto transport service provider. Make sure you choose a company with online credibility, registered, bonded, and insured. You also want to make sure that you can quickly get across to the car shipping company.
Choose Central Hubs as Your Pick-Up and Delivery Locations
Most carriers do not want to travel to remote areas because it takes longer to reach and do not get cars to ship on their way back. As such, they prefer to ply central routes. Choosing major hubs as your drop-off and pick-up locations also helps you get a lower cost.
Remove All Personal Items from the Car
You should remove all personal items from your vehicle when shipping across the country because they are not insured. The carrier has no obligation to watch over your personal belongings and can't be held responsible for any damaged items.
Can I Ship My Car Overseas?
Shipping a car overseas requires a little extra effort compared to domestic shipping. However, you have to reassess the reasons why you want to ship your vehicle overseas compared to buying a new one over there. If you intend to ship your car overseas, here are some things to consider:
We understand that people sometimes get attached to their cars and want to keep using them even at their new location. Hence, the need to ship the car is relatively high. But, how urgent do you need the vehicle? If the need for the car is very urgent, you may have to buy a new car in the country. However, it would be best to consider how easy and fast it is to purchase a new vehicle in the country.
You have to consider the various costs incurred while shipping your vehicle internationally. Your car may not be worth sending if it is not in good working condition. If you have a car in great shape, you can go ahead and ship your vehicle.
Duration of Stay Overseas
Here is another question because your stay is also a deciding factor. How long do you intend to stay? You may be surprised that you won't need your car if you only stay there for a couple of months.
The cost of shipping overseas is always affected by factors such as
Distance between the departure and destination ports
Pick-up and drop-off locations
Car size and weight
Vehicle type and model
Destination country taxes and charges
International Auto Shipping Methods
There are two shipping methods for international auto transport: RORO (Roll-on, Roll-off) and Container shipping.
For RORO shipping, your car is driven on and off the ship. Here, they are fastened securely to the deck. This method works best for fully operational vehicles and luxury vehicles. Roll-on, Roll-off is best if you are not in a hurry to get your car and you aren't shipping any personal items with the car.
As the name sounds, container shipping moves your car in a container to the destination country. This shipping method costs less than RORO. The cost will also depend on the kind of container you choose, either exclusive or shared. Generally, exclusive containers cost more than shared container shipping.
Challenges in the Vehicle Transport Industry
Since the past year, the auto transport industry has faced several challenges such as the U.S. supply chain disruption, port congestion, shortage of truckers, etc. However, like many other major industries, auto transport is only starting to pick up again.
For instance, the auto industry's shortage of semi-conductors is one major threat because they are crucial to car manufacturing. After the lockdown, the demand for cars increased supply chain disruption.
Furthermore, the number of truckers has severely dropped. As a result, ports are becoming more congested because only a few truckers pick up cargo. However, the cause of the backlog transcends the usual market forces, as some claim.
The demand surge, shortage of truckers, the backlog at the ports has all contributed to the increased auto transport rates. However, Los Angeles and Long Beach ports are developing workable strategies to ease up the bottleneck at the respective ports.
Trends to Watch Out for in the Auto Transport Industry
While we have discussed the challenges that the car transport industry faces, there are a few exciting auto transport trends to expect in 2022 and beyond. According to a study, the auto shipping services in the United States are expected to reach a 3.8% growth in 2022.
One of the emerging auto transport industry trends to watch for in 2022 is truck electrification (which aims to move trucks from gas-dependent to battery-powered). Another one is incorporating digital technology such as AI-controlled trucks increased digital auto sales- an attitude reinforced by online buying fling.
Military Vehicle Transport
Relocation is not uncommon in the military as members may receive PCS (Permanent Change of Station) within short notice. The processes involved in moving a military vehicle from one duty station to another are not so different from regular vehicle transport.
Whether SUVs, trucks, minivans, Metti International has got you covered, no matter what you want to ship to your new station. You have the option to choose between either of our available modes of transportation – open car carrier shipping or enclosed auto shipping.
Let Metti International Help You Ship Your Vehicle
If you're searching for the right car shipping broker, Metti International is here to help. Metti International offers valuable car shipping services and a smooth transport experience. We work with carriers with a 95% or higher service rating so that your car can arrive on time and safely.
We are a licensed and bonded car shipping broker with the Federal Motor Carrier Safety Administration. As a three-time finalist with the Better Business Bureau (BBB), Metti International works hard to earn clients' trust while providing excellent service.
Call Metti International today to schedule your auto transport at (866) 620-1776 or to speak to our sales representative. Contact us today to get an instant quote. For more information, you can also visit our website at www.mettiintl.com/