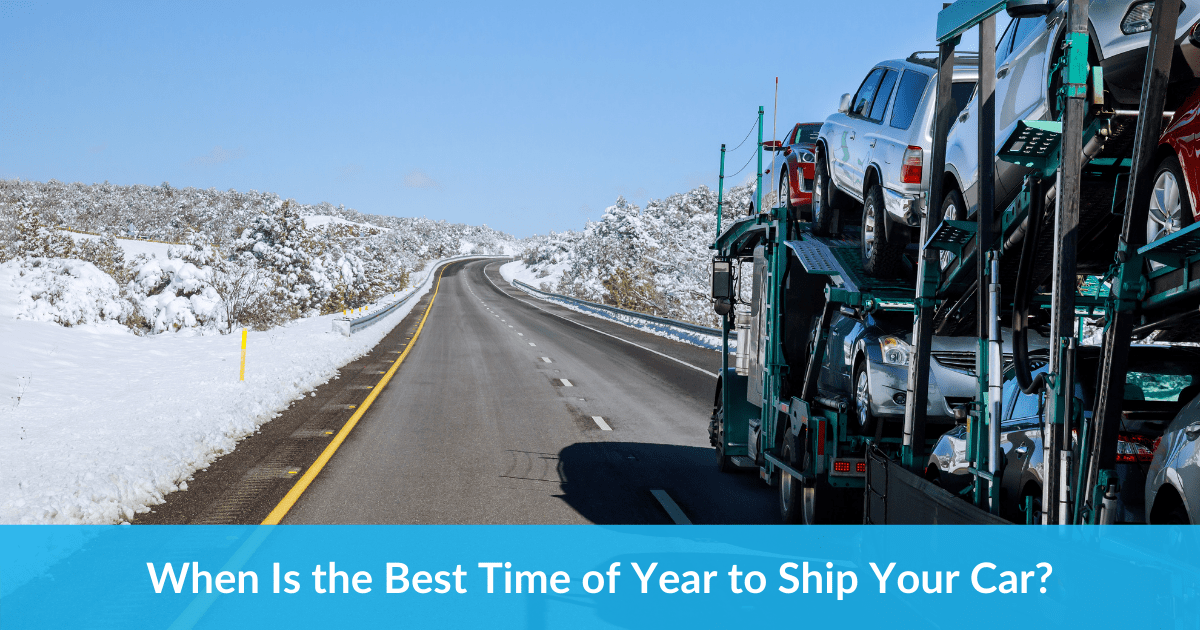 Shipping your car can feel overwhelming, especially when you're trying to figure out the best time to schedule transport for your vehicle. You may not always be able to decide when to ship your car but it's important to be aware that some times of the year are busier than others. There isn't necessarily a best time, but other factors such as season, length of transit and type of transport will impact your pricing. 
In today's post, we'll cover some of the things you should consider when deciding on the best time to ship a car. 
Prepare to Spend More Money in the Spring & Summer
Shipping a car at the start of spring & in the summer can be a bit pricier. This is usually because people who moved south for the winter need their cars to be delivered back north for warmer spring and summer months, as well as families relocating during the summer before the start of a new school year. The higher demand during these months can lead to higher prices and delays in how long a car takes to arrive. 
The Winter Slowdown
In February, things start to slow down, and in fact, February is easily one of the slowest months for the auto shipping industry. This makes it one of the best times to ship a car! Based on this drop in demand, prices are often lower, too. One of the biggest benefits of shipping your vehicle during the winter months is that prices are usually much lower than they are during the summer (except during the holiday season). Auto-shipping isn't as common in the winter, so carriers lower prices to encourage people to schedule auto transport. 
Although the car shipping industry is usually slow during the winter months, the opposite is true during the peak holiday season. The last ten days of the year are usually some of the busiest for car dealerships and in turn, come January 1st, carriers are typically booked solid for 3-4 weeks. 
Car dealerships frequently have end-of-year sales to clear inventory for new models and auto carriers are busy transporting cars to their new happy owners. So, if you're planning to purchase or gift a car this holiday season, be prepared to schedule your winter car transport early so you can have it delivered on time. Keep in mind that you may also pay a higher price during these weeks because of the increase in demand. 
Winter weather conditions can be unpredictable. Snow, ice, and slippery roads are hazardous, making shipping a car preferable rather than driving it yourself. However, with those road conditions, keep in mind that delivery delays could occur.
When Should You Ship Your Car?
The short answer is: you should ship your car whenever it's best for you. Here are some questions to consider when making your decision. 
Is saving money your top priority?
Is there a specific time when you need to have your car arrive? 
How far in advance will you need to book with a shipping company to make sure everything goes smoothly? 
Where are you shipping to, and does that influence pricing at different times of the year, like outlined above? 
These questions will help you figure out the best time to transport your vehicle. 
Plan ahead for high and low auto shipping seasons
Once you know that you need to transport a car, Metti International will help you every step of the way. No matter when you're planning to ship your car, we provide the best service possible, especially as a licensed and bonded broker with the Federal Motor Carrier Safety Administration. 
Call Metti International today to schedule your auto transport at 866.620.1776 or request a quote online. We look forward to working with you!