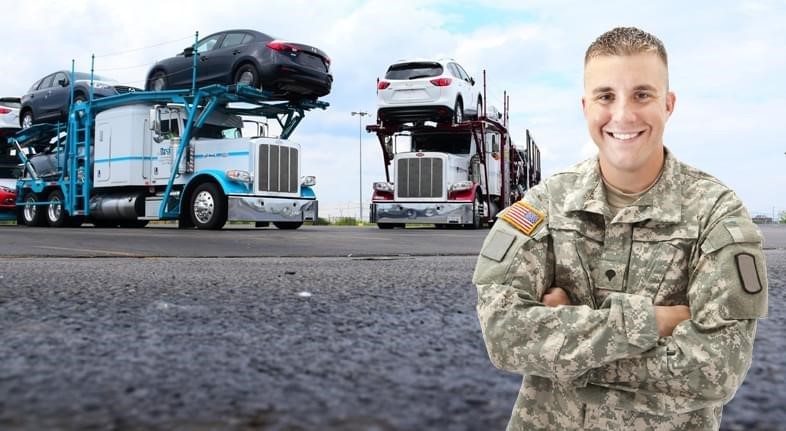 Military car shipping is a specialized service that helps military personnel transport their vehicles from one duty station to another. Whether you're moving across the country or shipping your car internationally, employing the service of an experienced and reliable military car shipping company can make the process simple and stress-free.
When it comes to military auto transport, efficiency and reliability are of the utmost importance. Military personnel often have to move frequently and on short notice, making it crucial that their cars are shipped quickly and without any complications. For instance, acting/serving military personnel could easily be assigned to a new primary San Diego military base.
If you are resuming to a new duty station, all you need is to schedule your military auto transport ahead. MI Car Shipping is an expert military auto transport broker who helps to connect you to the right car carrier near you.
How Does Military Car Shipping Work?
As an active military service member, you can receive Permanent Change of Station Orders (PCS) anytime. Knowing the best way to ship your vehicle when posted to a new duty station can be overwhelming. MI Car Shipping regularly works with active military groups and understands military car shipping requirements. We're here to help make your relocation process as easy and seamless as possible.
With your new permanent change of station orders (PCS), you might need to make many decisions quickly. However, as an active military service member, preparing for your upcoming move doesn't have to be an arduous task. One vital thing to do is find a trustworthy military car shipping company to ship your car. After getting your preferred military auto transport company, proceed with the following:
1. Schedule Your Military Car Shipping
When you receive your new PCS orders, it's essential to schedule your car shipping ahead. This enables your auto-shipping broker to make adequate plans for a smooth shipment. Metti International has been working with military personnel and military families for years. We provide a smooth car shipping experience even when you only have a little time to prepare.
2. Consider the Most Suitable Auto Transport Method
Most military personnel choose to have their car shipped using an open carrier auto shipping method. It's the most cost-effective way to get your car to your new military base. However, enclosed carrier auto shipping provides extra protection although, it is more expensive.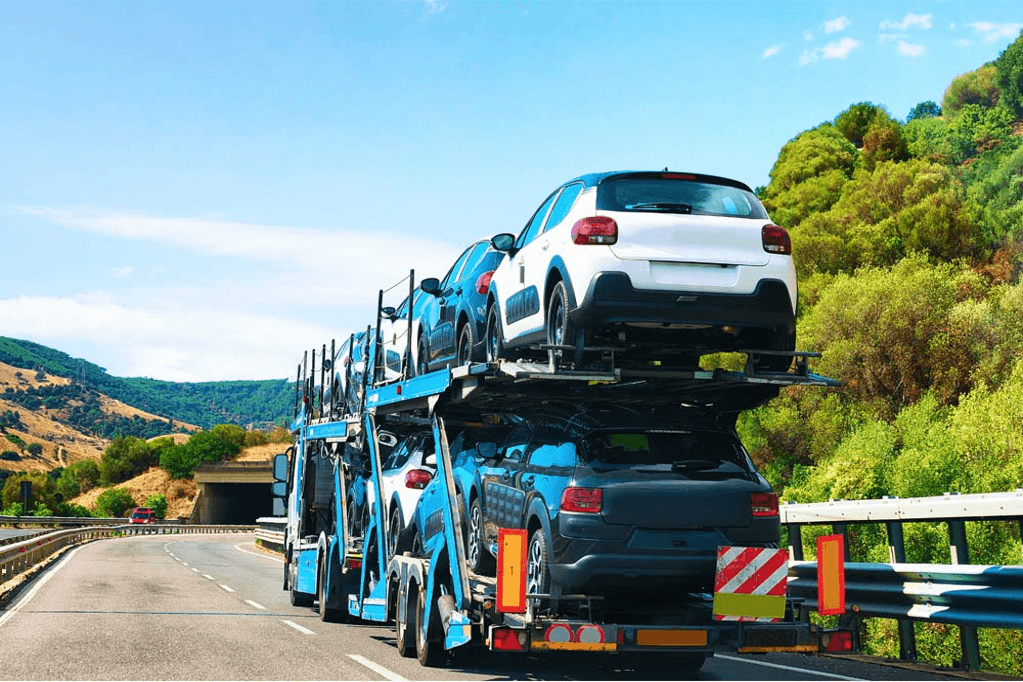 Below are the top things you should consider before you ship your military vehicle:
1. Military Car Shipping Basics
Military PCS car shipping is available for active military members assigned to a new post who need to ship their military vehicle. When you receive the transfer, the government covers moving your personal operating vehicle (POV) to your new location. Depending on your new post, you may be responsible for paying for any additional vehicles you'd like to ship. You will need to work with an auto transport company that understands military personnel's unique needs.
2. Cost of Shipment
When moving to your new location, you will need to consider how much it would cost to ship your car using a military car shipping company. The cost of military car shipping domestically or overseas varies depending on several factors. Shipping your military vehicle from remote locations costs more than the metro areas. Another factor to consider includes the vehicle shipping option you choose.
3. PCS Move and Shipping Your Military Vehicle
Planning your road trip and coordinating such a big move can be exhausting. So, consider using a car shipping company to relieve the stress. With an auto transport company like Metti International, you can travel with ease and comfort. Metti International provides exceptional customer service and affordable rates so you can relax and have a great travel experience.
How to Choose a Reliable Military Car Shipping Company
If you need professional carriers for your military vehicle, your first contact is an auto transport broker. They are industry professionals that act as the link between you and the auto transport carriers. When choosing a military car shipping company, the first consideration is that it must be registered with a regulatory body – The Federal Motor Carrier Safety Administration (FMCSA) and BBB Accredited.
Check the car shipping company's reviews online to see what other customers say about them. Lastly, you also want to verify from your car shipping broker that the car carriers are insured.
While searching for the right military auto transport company to ship your car, refrain from companies with too-good-to-be-true deals. Those are kinds of auto transport companies to avoid. A low shipping cost doesn't always translate to quality service.
You can check what our customers say about us through their reviews here at MI Car Shipping.
How Much Does Military Car Shipping Cost?
Factors that influence military car shipping rates include:
1. Car Size and Weight
The size of your vehicle (length, height, and weight) greatly impacts military auto transport costs. Therefore, the heavier or larger the car, the greater the cost. There is a maximum permitted weight and height for trailers, so carriers may charge more for heavier vehicles to make up for the space they occupy.
2. Car Shipping Method
There are two kinds of military car shipping – enclosed carrier and open carrier. Given your chosen method, the cost of car shipping will vary. Nevertheless, the open carrier is the most cost-effective as it shares a trailer with about nine cars. With this method, there are chances that your car will be affected by debris during shipment, although very minimal.
The enclosed carrier offers maximum protection to your vehicle against arid weather conditions and debris. Since fewer cars are in the enclosed carrier, the auto transport cost is always higher.
3. Distance
The distance to be traveled by the carrier while transporting your vehicle also impacts the military car shipping price. Traveling longer distances will cost the carrier more in terms of gas fees and driver's pay. These costs will determine the auto shipping quote to the new duty station.
4. Car Year and Model
Shipping a luxury or classic car will cost more than a regular vehicle. This will require additional attention and expertise, especially during loading and unloading. So, when calculating your military car shipping costs, carriers consider the type of car you want to ship.
The following are factors that affect how long a military car shipping takes:
1. Distance
One factor to consider is how far your delivery destination is from the highway and the nearest city. The farther out from the highway and major metro, the longer it could take to deliver your car. Hence, the farther the military base, the longer it will take.
2. Time of Year
The time of year also determines the duration of your military car shipping delivery time. During spring and summer, there can be delays due to higher demand. The holidays are also one of the busiest times of the year, thus making it a little harder to secure reliable transport.
Outside of the holidays, winter is typically a good time for auto shipping if you want to ship your car as quickly as possible. It's a slower time of year, leading to lower prices and the possibility of faster delivery.
3. Vehicle Type
No matter the vehicle type you need to ship, Metti International can help you with your military car shipping. Different vehicle types will require different methods of shipping. For example, shipping a large car takes up more space on the trailer and thus affects how fast you can ship your vehicle.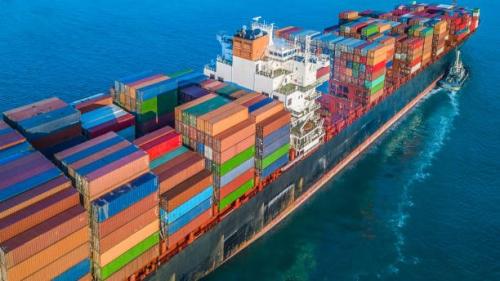 Military Car Shipping Overseas
If your new assignment is overseas, you'll have the option to have your car shipped using a containerized auto shipping or roll-on, roll-off option. This makes it easy to pick up and drive to your new home straight from the port. Keep in mind that you'll need to submit a request for an alternative port for pickup if necessary. It is important to note that RORO auto shipping is not available in most ports.
Military Car Shipping to Another State
If you're reassigned within the United States, you can have your car shipped with an open car carrier or enclosed car carrier. You can choose the most convenient drop-off location for you and your family. For military auto transport added protection, you should consider shipping your car using enclosed transport although, it is more expensive. This will help protect your car from dust and debris on the way to your new home.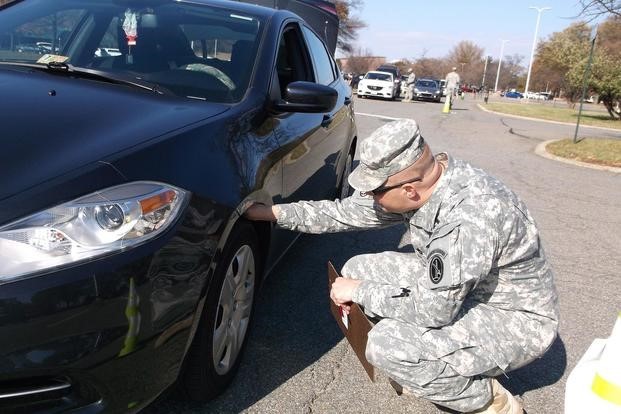 How Should I Prepare My Car for Military Car Shipping?
The following are the ways to prepare your car for military car shipping:
1. Make a To-Do List
You need to make a to-do list as soon as you receive your military PCS orders. Outline everything you need to do before the big move so you'll be well prepared. You'll need to schedule your military PCS vehicle shipping and create a list of other important tasks. You can easily visualize what to do by writing things down.
2. Schedule Your Military PCS Vehicle Shipping Ahead
Military PCS vehicle shipping is available for active military members who have been assigned to a new post and need to ship their vehicles. It's meant to help relieve the stress of making arrangements to transport your car. The military will typically cover your auto transport if you're in this situation. Depending on your new post, you may be responsible for paying for any additional vehicles you'd like to ship.
3. Delegate your Tasks
As military PCS orders often require you to move quickly, it may take a few weeks for your boxes to arrive at your new home. You can take the essentials with you such as your financial documents, clothes, toiletries, and other items. However, you can have your auto transport broker arrange to have your car easily transported to your newly assigned base.
Does the Military Ship Your Car for Free?
The military should cover the expense of transporting your car if you're in this situation. Depending on your new post, you may be responsible for paying for any additional vehicles you'd like to ship.
The following are the benefits of military car shipping services:
1. Save Time
There won't be enough time to complete many things immediately after you get your new PCS orders. So, your best choice is to contact an auto broker, which will help you to find the best price to ship your car. Utilize your military auto transport benefit to schedule auto transport for pick-up and delivery of your vehicle to your new home. This will save you time to focus on moving and adjusting to your assignment.
2. Save Money
If you need to ship your car cross country, you can avoid the cost of car shipping. Not only will you prevent the hassle of driving yourself, but you'll also avoid paying for hotels, food, and additional costs on the trip. If the military doesn't cover your auto transport, shipping with a broker will only cost you a flat fee. Hence, you wouldn't have to spend much driving your vehicle.
3. Stress-Free Move
Once you've scheduled the pickup and drop-off date and time, you won't have to worry. Your car will be safely delivered to your desired location by a carrier who has ample experience working with military personnel.
4. Avoid Added Mileage to Your Car
When you use a military auto transport benefit from your car shipping broker, you'll be able to avoid adding any additional mileage to your vehicle. Your car will be transported to your new home, and you'll be able to avoid any wear and tear on your vehicle. This could quickly add up if you have multiple location changes during your military career,.
Documents Required for Military Car Shipping
Here are the necessary documents needed for Military Relocation:
PCS travel orders
Travel voucher: DD 1351-2
Vehicle registration (if using POV/boat/trailer)
Paid rental agreement
Application for DITY Move and Counseling Checklist: DD 2278
Common Operating Personal Expenses (OPE)
2 certified weight tickets (full weight and empty weight)
Ship Your Military Vehicle with MI Car Shipping
At MI Car Shipping, we'd connect you with quality and reliable carriers, your desired transportation method, and your time frame. We provide a seamless military auto transport experience for our clients.
MI Car Shipping is your trusted and reliable car shipping company with an A+ rating and excellent customer reviews. We are a four-time finalist with the Better Business Bureau (BBB) and a licensed and bonded car shipping broker with the Federal Motor Carrier Safety Administration. We only work with carriers with a service rating of at least 95% for our customers. We provide excellent and satisfactory military car shipping services.
Contact Metti International at 866-620-1776 today to schedule your military car shipping, and you will get an instant quote. For more information on military auto transport, visit our website at https://www.mettiintl.com/.
Frequently Asked Questions
Will the Government Pay to Ship my POV?
If you've received PCS orders, you may be eligible to have your military car shipping to your new duty paid. However, if the military pays to move your vehicle, they will typically only cover the cost of one car. So, you will always be responsible for any other vehicles.
Can I Ship My Personal Items as part of the Military Car Shipping Service?
When shipping a vehicle, up to 100 lbs of personal items can be placed in the trunk or cargo area. However, you must securely pack your items in one box or suitcase. Additionally, military car shipment insurance does not cover personal belongings.
What are the different types of Military PCS moves?
A military personnel has several moving options upon the receipt of PCS orders. A "government managed move" is where the government hires movers on your behalf. Personally procured move (PPM), also known as DITY (Do-It-Yourself), can be either self-executed or assisted. In PPM-self, you handle all the moving tasks, while in PPM-assisted, you hire someone to do the work for you.
What Do I Need to Do When My Car Arrives?
When your car arrives at your destination, the basic thing to do is to inspect your car. Check if nothing happened to your car during the military car shipping to the new home. Furthermore, document what you can see during the inspection for proper recording before the carrier leaves. Lastly, contact your military car shipping company if you need to address any issues that you noticed.