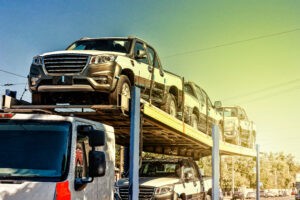 It can be exciting receiving a permanent change of station (PCS) or outside the continental US (OCONUS) order. However, relocating can be an overwhelming process, especially when you have limited time before the big move. Before heading to your new location, there are several things to consider, making arrangements to ship your military vehicle to your new home.
To avoid a stressful movement, you should consider working with a reliable transport company like Metti International. Metti International has experience working with active-duty military personnel for the best transport experience possible.
Below are the top things you should consider before you ship your military vehicle:
CAR SHIPPING BASICS
Military PCS vehicle shipping is available for active military members assigned to a new post and needs to ship their military vehicle. When you receive the transfer, the government covers the expense of moving your personal operating vehicle (POV) to your new location. Depending on your new post, you may be responsible for paying for any additional vehicles you'd like to ship. In this case, you will need to liaise with an auto transport company that understands military personnel's unique needs. The auto transport company will take care of your vehicle shipping needs.
COST OF SHIPMENT
When moving to your new location, you will need to consider how much it would cost you to ship your car with an auto shipping company. The cost to ship a vehicle domestically or overseas varies depending on several factors such as the size and your vehicle brand. Heavily modified or bigger cars take up more space, and as a result, they cost more to ship. Shipping your military vehicle from remote locations costs more than the metro areas. Another factor to consider includes the vehicle shipping option you choose. Your pickup location also largely determines the cost of shipping your military vehicle.
PCS MOVE AND SHIPPING YOUR MILITARY VEHICLE
Some people prefer to drive their military vehicle from duty station to duty station. However, relocating to another location is a lot to handle. Planning the road trip and also coordinating such a big move can be exhausting. You might need to consider using an auto transport company to save you all the stress. With an auto transport company like Metti International, you can travel with ease and comfort. Metti International provides exceptional customer service and affordable rates so you can relax and have a great travel experience.
LET METTI INTERNATIONAL HELP YOU SHIP YOUR MILITARY VEHICLE
You don't have to worry about filtering your car search to just your local area. Metti International is here to help you. We ship overseas and anywhere in the United States, including US Metropolitan areas. We work with only top-rated carriers, so you know you'll be in good hands from start to finish. Your military vehicle will be shipped with your budget and within your timeframe.
So, give us a call at (866) 620-1776 to speak to our staff. Our staff will provide you with an instant quote, answer your questions, book your shipment, and much more. You can also book your shipment right here on our website at www.mettiintl.com/