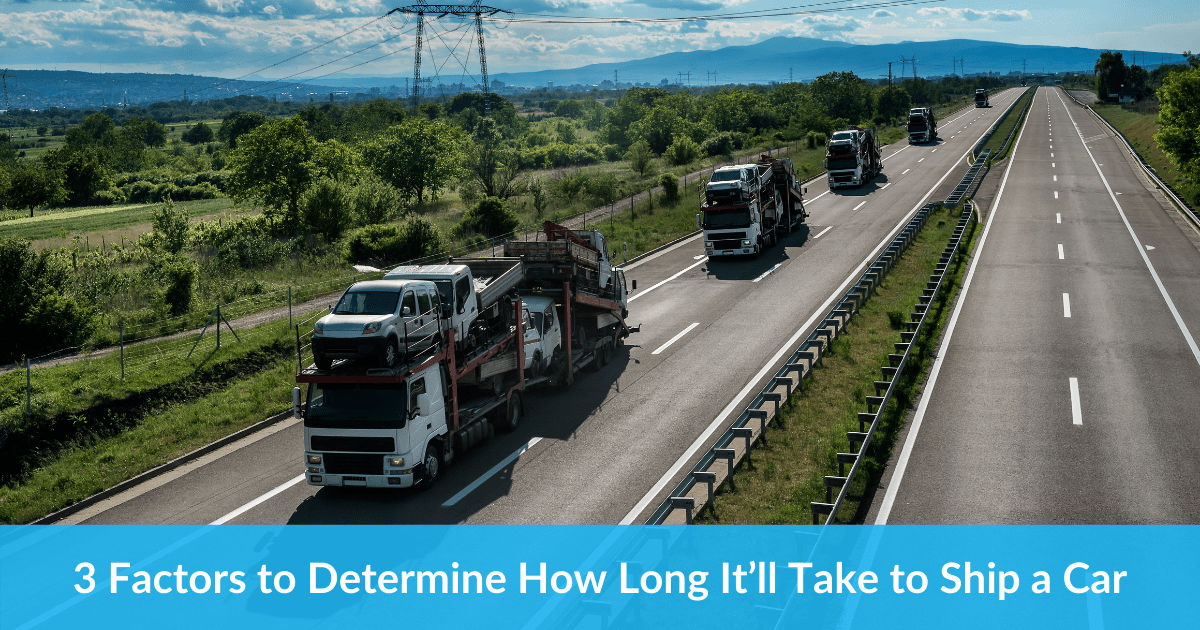 Nationwide auto transport is something to consider if you need to ship a vehicle somewhere far from home. But, how long does it take to ship a car? There are a few factors that determine how long this process takes. Understanding these factors will help you prepare for a smooth, seamless auto shipping experience.
In today's post, you'll learn the four factors that determine how long it will take to ship a car. Plus, you'll get a comprehensive list of all the major metro areas in the United States where Metti International can ship your car. Let's get started! 
1. Distance
The farther you need to ship your car, the longer it will take. Another thing to take into consideration is how far your delivery destination is from the highway and/or nearest city. The farther out from the highway and major metro, the more costly that the delivery may be and the longer it could take to deliver your car. If you do live in an outer-lying area, you could consider terminal delivery to lower some of the shipping costs and time waiting by picking up your vehicle.
2. Time of Year
You might be surprised to know that the time of year is a factor when shipping your vehicle. Car shipping cost tends to be more expensive in the spring and summer, and there can be delays due to higher demand. The holidays are also one of the busiest times of year, thus making it a little harder to secure reliable transport.
Outside of the holidays, winter is typically a good time for auto shipping if you're looking to spend less and get your vehicle to where it needs to be. It's a slower time of year, leading to lower prices and the possibility for faster delivery (barring inclement weather, of course). 
3. Vehicle Type
No matter what type of vehicle you need to ship, Metti International can help you with nationwide auto transport. Different vehicle types will require different methods of shipping. For example, shipping a pickup truck takes up more space on the trailer and thus costs more to ship, because it decreases the space available for other cars on the trailer.
If you're looking for domestic auto shipping, Metti International can help you coordinate transport to all major metros in the US, including: 
Hillsborough County, FL, USA
San Diego County, CA, USA
Sacramento County, CA, USA
Los Angeles County, CA, USA
Palm Beach County, FL, USA
Miami-Dade County, FL, USA
Riverside County, CA, USA
Cuyahoga County, OH, USA
Broward County, FL, USA
Cook County, IL, USA
Suffolk County, NY, USA
Kings County, CA, USA
Harris County, TX, USA
Maricopa County, AZ, USA
King County, WA, USA
Alameda County, CA, USA
Bexar County, TX, USA
Clark County, NV, USA
San Bernardino County, CA, USA
Metti International will help you find reliable transport that will get your vehicle to its final destination as quickly as possible. We conveniently work with auto carriers in all major areas of the country. As a two-time finalist for the Torch Award by the Better Business Bureau for Ethics (BBB), we pride ourselves on providing customers with exceptional service and doing everything we can to help your transport experience go smoothly.
We are here to help with over 13 years of experience. Call Metti International for a free quote today at 866.620.1776!