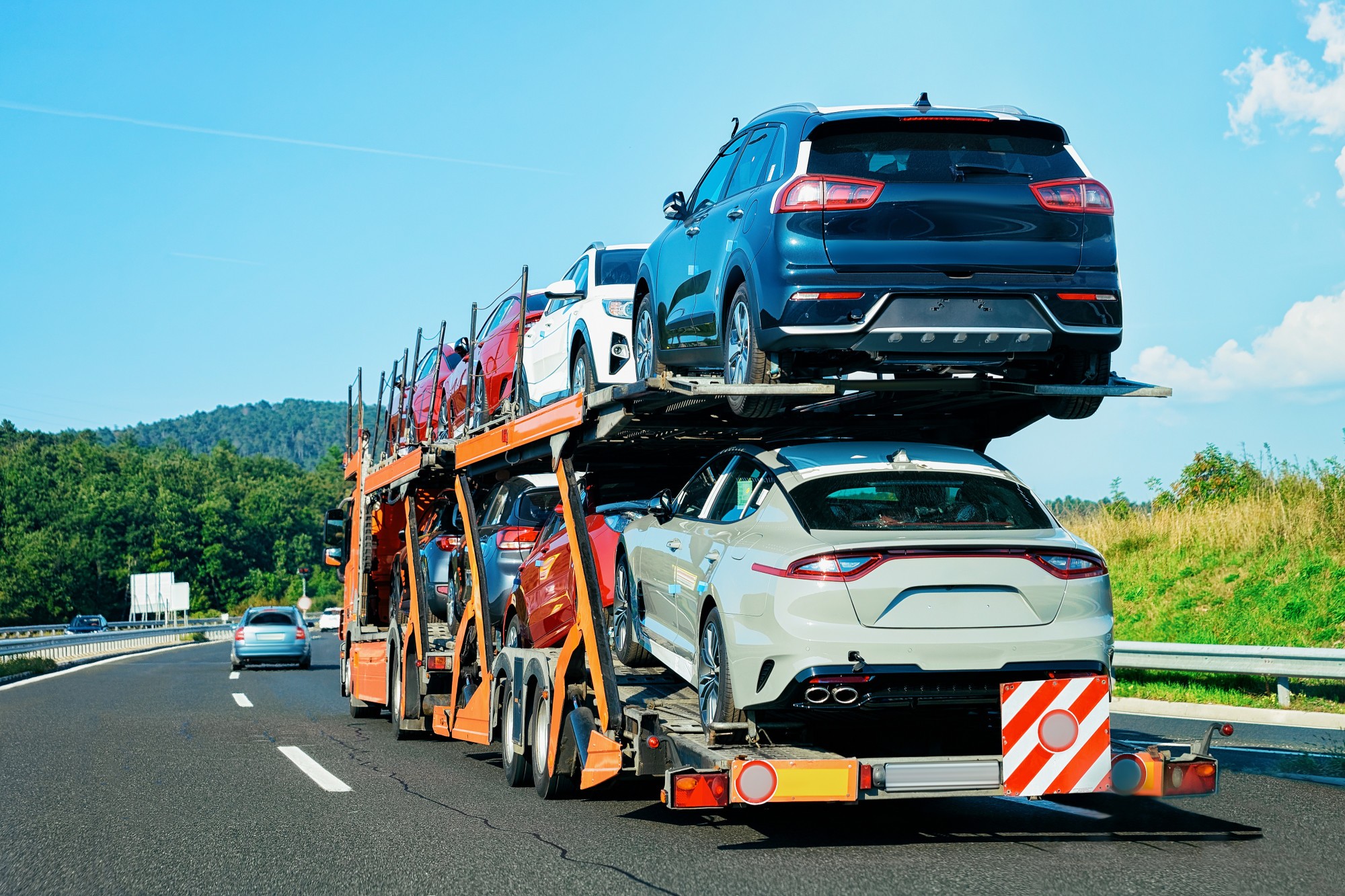 Are you relocating to a new state or country and you need to move your car? Driving your car yourself cross country might not be the best choice. There are factors to consider if you will drive yourself across states. They include subjecting your vehicle to wear and tear, the physical exertion it takes to drive long miles, gas, feeding, and lodging costs.
By shipping your car with the best car shipping company, you can transport your vehicle to your desired location easily and still save time and money.
Factors That Influence the Price of Car Shipping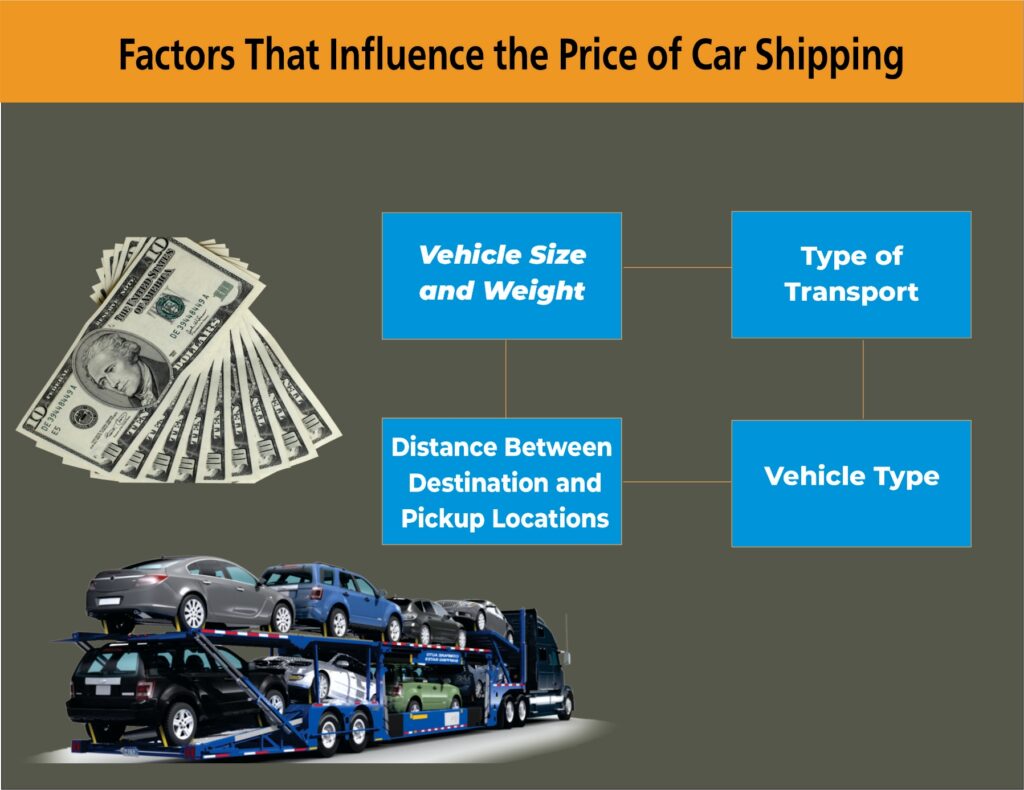 Auto shipping costs vary due to several factors. For instance, inoperable cars will cost more to ship than a running car because, they require professionalism to load and unload. Other factors that influence auto transport rates include:
The size of your vehicle (length, height, and weight) greatly impacts shipping costs. Hence, the heavier or larger the car, the greater the cost.  There is a maximum permitted weight and height for trailers, so, carriers may charge more for heavier vehicles to make up for the space they occupy. For instance, shipping a modified pickup truck will definitely cost more than a compact car. The pickup truck may not fit easily into the regular auto transport enclosed trailers and may require a flatbed truck to transport.
There are two kinds of auto transport – enclosed carrier and open carrier. Given your chosen method, the cost of shipping will vary. Nevertheless, the open carrier is the most cost-effective and popular method of auto shipping. The enclosed carrier offers maximum protection to your vehicle against arid weather conditions and debris although, it is more expensive.
Distance Between Destination and Pickup Locations
The distance to be traveled by the carrier while transporting your vehicle also impacts price. Traveling longer distances cost the carrier more in terms of gas fees and trucker's pay. So, these costs will determine how much they will charge for your vehicle transport to your destination.
Shipping a luxury or classic car will cost more than a regular vehicle because, it will require additional effort and expertise, especially during loading and unloading. So, when calculating shipping costs, carriers consider the type of car you want to ship.
Cheapest Way to Ship your Car
Are you trying to manage your expenses as you ship your car from one state to another or across countries? Metti International has got you covered. We will guide you on how to save both your time and money when shipping your car. Let's examine the cheapest way to ship a car while working with a top-rated auto broker.
1. Ship More Than A Car at Once
One major consideration for a competitive pricing offer is shipping your cars together at once. You save the car shipping companies the time of retrieving cars from one place and terminal to another. Hence, when shipping more than one car across states or countries, you tend to get discounts from auto shipping companies.
Likewise, you reduce expenses on your car shipment if you use only one shipping company for your auto transport. Also, you save yourself the expenses attached to consulting different companies to ship your different cars.
2. Open Carriers Are Most Cost-Effective
If you're looking for the cheapest way to ship a car, you should consider scheduling an open carrier auto transport for your vehicle. This is a great option if you're relocating domestically, transporting a new or used car, or moving due to a military relocation assignment. Open carriers ship multiple vehicles at the same time, making it the most cost-effective way to ship your car.
3. Consider A Budget-Friendly Quote
It is important to be cautious about the extremely good-to-be true quotes of car shipping companies. Some shipping company offers cheap shipping cost but, with a bad reputation. Hence, do a background check on the car shipping company before making your choice. As much as you check if the car shipping company fits your budget, it is more important to ensure the company is BBB accredited. Also, check for previous customer reviews before choosing a car shipping company that meets your needs.
4. Choose Terminal to Terminal Transport
If you're searching for how to transport your vehicle while saving money, consider terminal to terminal shipping. It'll cost less to drop off and pick up your car at the nearest terminal than to have it delivered to your door. Simply meet the driver at the terminal to drop-off or pick up your vehicle. However, the transport process can be a smooth one when there's adequate communication with the driver.
5. Flexible Shipping Time Frame
If you're looking for the cheapest way to ship your car and aren't in a rush, consider waiting to schedule auto transport during an off-peak period. You'll pay much less when you schedule your transport ahead of time instead of booking transport last minute. Also, consulting your car shipping broker for a less expensive option can give you access to their discount if available. However, this only works best for you when you are not in haste to ship your car.
6. Work with a Trusted Auto Broker
We understand that finding the balance between saving money and finding reliable and safe transportation for your vehicle is important. Metti International is a licensed and bonded broker with the Federal Motor Carrier Safety Administration. We work only with carriers with a least 95% rating and ensure you get the best price. You will also have peace of mind knowing that your vehicle is in good hands throughout the shipping process. We provide safe and timely transport.
Don't hesitate! Give Metti International a call today to schedule your upcoming car transport at 866.620.1776 or request a quote online. We look forward to serving you!
How to Prepare Your Vehicle for Shipping?
Once you have decided to ship your car across states or countries, here are a few quick tips on how to prepare your vehicle for shipping:
Remove all personal items from your car
Inform your auto shipping broker in time if your car is inoperable
Conduct a car inspection ahead
Ensure that there is not more than a quarter full of gas in the vehicle
Be involved in the pre-shipping inspection process
Do not cancel insurance
What are the Factors Affecting Inter-States and Inter-Countries Car Shipping Delivery Time?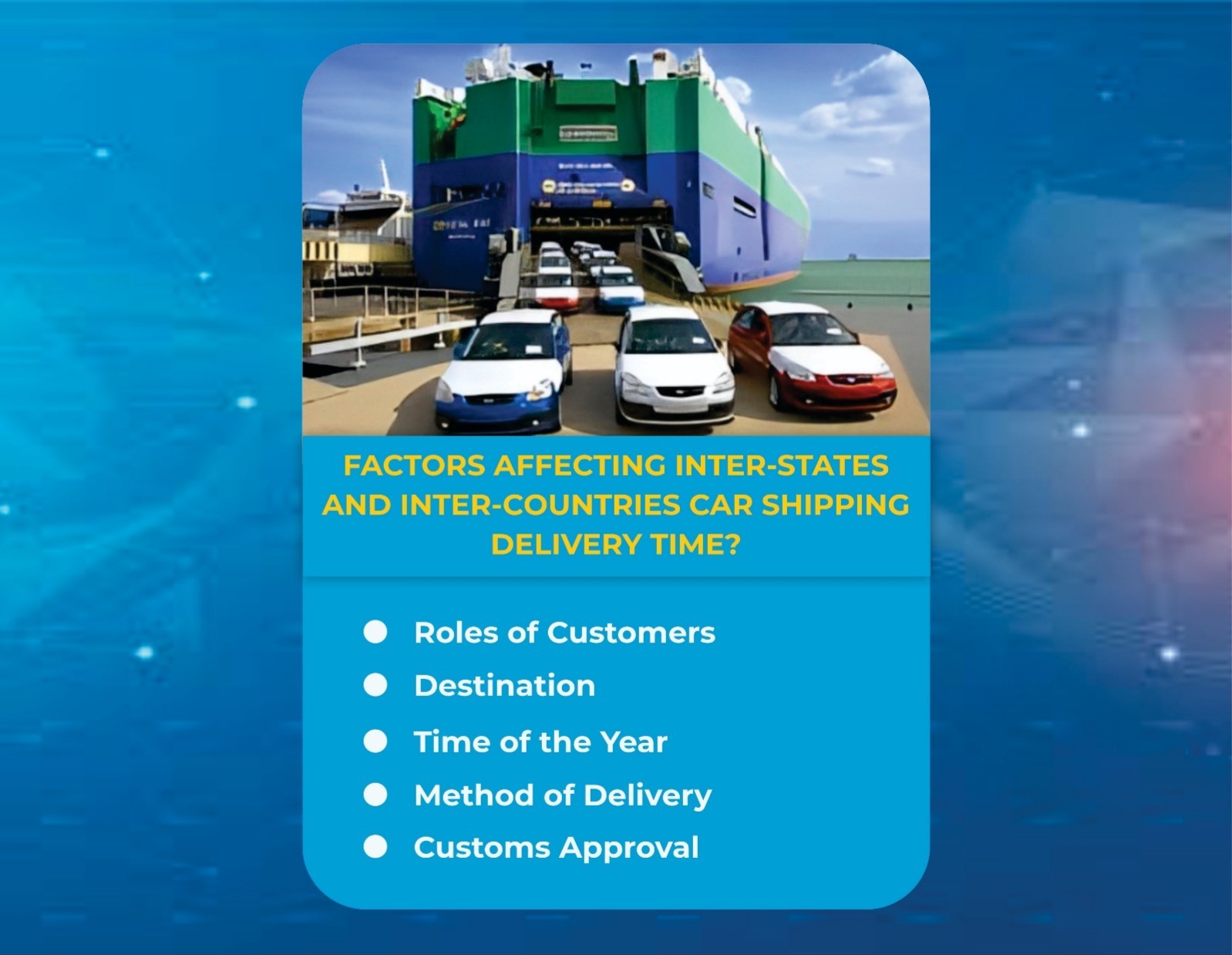 Our first priority at Metti International is to ship cars in the fastest feasible period. We provide timely auto shipping. A number of unique considerations impact our capacity to deliver vehicles on schedule to different locations. Delivery timeframes are affected by a number of variables, including the following:
When it comes to shipping your vehicles to another state or country, you have a huge role in how soon it reaches its destination. Firstly, you must decide when and how your vehicle will be shipped to your desired destination.
The sooner you complete the paperwork, pay the costs, and prepare your vehicle for shipping, the sooner your vehicle will arrive at your destination. Even though it may seem like a lot of work, a Metti International customer care agent will always be there to make sure nothing is overlooked and that everything goes as smoothly as possible.
Your desired drop-off location affects the delivery time of your car. You can save time when you employ the services of an experienced car shipping broker to ship your car. Your car shipping broker is familiar with the best routes to get your car to your desired destination which can also reduce the shipping cost.
Around the peak season like the summer or fall period, there is usually a higher amount of car shipping resulting in delays in car shipment. There is a lot of backlog of orders around holidays. Eager clients may be disappointed when car shipping during these periods.
During the off-season, vehicle shipment becomes less frantic. If the seas are calm and there are no issues, clients may count on their shipments arriving early at their target port during these months.
You can ship your car domestically with the open carrier car transport or the enclosed carrier auto transport. Although, the enclosed carrier  auto transport is more expensive due to the added protection it offers. Shipping your car internationally through ocean freight is the most common means of transportation. When it comes to international auto shipping, you can consider RORO shipping or containerized shipping which is a more affordable shipping method. When it comes to shipping automobiles across countries' borders, this approach is the slowest and most subject to long-term delays.
It's merely the first step in to ship your car overseas. Customs clearance and compliance with local laws are a requirement for shipping. Any delays caused by customs officers may be avoided with the help of an experienced car shipping broker. You will be able to acquire your car in the shortest amount of time feasible.
However, even if the necessary import charges have been made, the season will have an impact on how fast you may have your new car. There are also differences in auto shipping timeframes based on the destination country of your choice. Contact a Metti International agent today, if you have any questions about international custom clearance destination duties and fees, with the applicable regulations.
Metti International Will Help You to Ship Your Car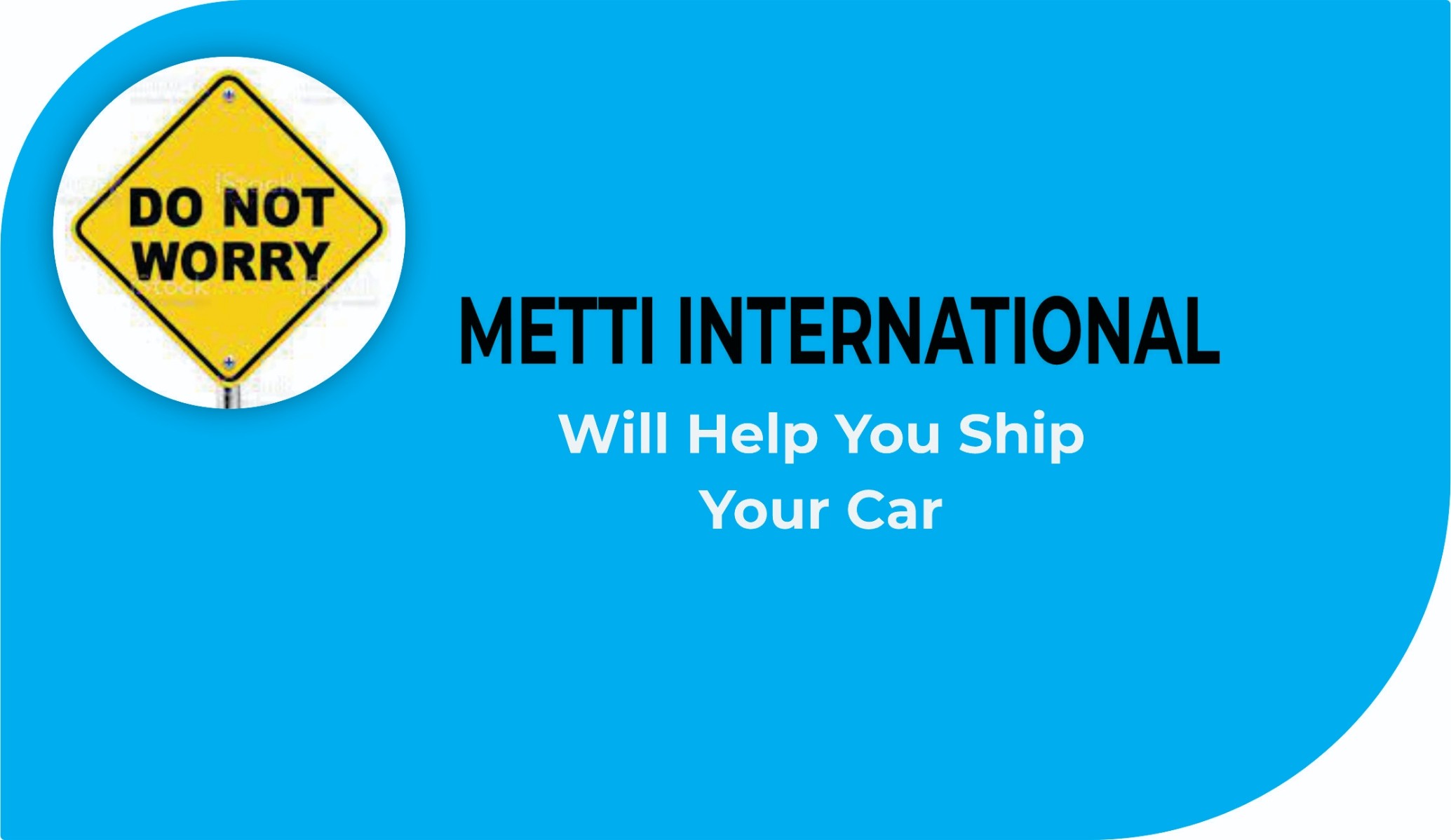 You no longer have to worry about shipping your car across the US or how to buy a car and ship overseas.  Metti International is here for you and we will help you ship your vehicle. Metti International has excellent records: BBB accredited with A-plus rating, three-time award-winner of the BBB Torch Award for Ethics.
Regardless of the kind of vehicle you want to ship, Metti International is the top choice for your vehicle shipping needs. Call Metti International today on 866-620-1776 to schedule your auto transport and get an instant quote. For more information, visit our website at www.mettiintl.com/