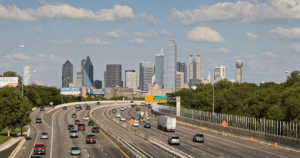 Have you been searching for how to ship your car to and from California? Well, Metti International is here to help you narrow your search. Below is a guide on how you can ship your car to and from California with ease.
The State of California
California is the most populous state in the United States. It has an estimated population of over 38 million. While its capital is called Sacramento, and its largest city is Los Angeles, California meets the Pacific Ocean on the west. However, California shares its borders with Oregon to the north, Mexico to the south, Nevada, and Arizona to the east. 
It has major metropolitan areas, including Los Angeles, San Diego, Sacramento, Riverside-San Bernardino, and the San Francisco Bay. Presently, California is divided into 58 counties with 481 municipalities. Although, the greater Los Angeles metropolitan area has nearly 19 million people, which is roughly half of California, their heavy dependence on automobiles results in a tremendous number of auto-transport California shipments. If you need to ship your car to or from the state of California, you can schedule an auto transport for your vehicle with a car shipping company.
Ship Your Car to California
Whether you plan to ship your car to the west of California or ship your vehicle from the east coast to California, Metti International has got you covered. From Northern California down to the Southern California metro areas such as Los Angeles and San Diego, Metti International will handle your car hauling from start to finish.
You can opt for the terminal-to-terminal or door-to-door delivery service. Additionally, you can also choose any car transport method of your preference, such as open carrier or the enclosed carrier auto shipping.
Ship Your Car from California
While California might be one of the biggest states, not everyone is going there in a hurry. Some people plan to relocate from California to other states and nationwide. To transport your car safely out of California, you need a well-experienced, reliable car shipping transport broker like Metti International.
Let Metti International Help You Ship Your Car
Save yourself money, time and the hassles of driving yourself during your big move.  Let Metti International help you ship your car. We provide exceptional customer service, fast shipping, and competitive pricing. Metti International is an excellent choice for your car shipping needs. As a two-time finalist for the "Torch Award" by the Better Business Bureau for Ethics (BBB), we ensure that your car transport goes smoothly.
Give us a call at (866) 620-1776 to speak with our sales staff. We will get back to you with a quote. You can reach out to us for any inquiry or assistance you might need. For more information, visit our website at www.mettiintl.com