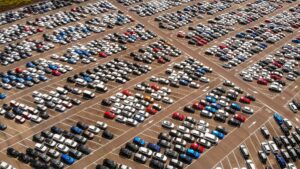 Terminal-to-terminal and door-to-door auto transportation methods offer specific benefits as well as disadvantages, depending on your car and your location. Below is all you need to know about terminal-to-terminal and door-to-door car transport. Understanding these fundamental differences will help you make an informed decision on the method that suits you. 
How does terminal to terminal car shipping work?
Terminals are located in many of the large cities and large metropolitan areas across the United States. It is easier for carriers to transport your car from one major hub or common route to another.
Once you've made a booking with a reliable car transport company that offers a terminal-to-terminal auto transport service, you have to drive your car to the specified drop-off terminal. Your car will stay there until your chosen carrier is ready to collect it. When the carrier picks up your car, it will be transported to another terminal location of your specification. 
If your vehicle is waiting at the final terminal location, you would have to pick it up in time to avoid additional costs. You might also pay for storage fees. There is the option of arranging for a friend, family member, neighbor, or colleague to pick up the vehicle for you if you're unable to pick it up yourself.
Terminal-to-terminal car transport method offers a safe and secure location for your vehicle. It is cost-effective although, it a longer time than door-to-door car transport.
How does door-to-door car shipping work?
Door-to-door shipping is the most popular means of moving a vehicle because of its convenience. This involves arranging with an auto transport company to have your car transported. Afterwards, you'd give the car carrier your residential or home address. Then, the carrier will come close to the address as possible to load or unload the car. Door-to-door shipping offers added protection for your vehicle keeping it safe and secure from the pickup to the drop-off.
Due to the truck or trailer size, street or neighborhood layout, and amount of low-hanging trees, sometimes it is not feasible for carriers to deliver the vehicle to the actual address. It is easier if the address provided for loading or unloading the vehicle is closer to a major highway rather than a remote area.
Door-to-door car transportation service is quite expensive. However, it saves you time and the hassles of moving your car from terminal to terminal. Door-to-door car transport is a great option for transporting luxury, exotic, classic, antique, or custom vehicles.
For a smooth transport experience, Metti International is your trusted and reliable auto shipping broker. We are a two-time finalist for the "Torch Award Finalist" by the Better Business Bureau for Ethics (BBB).  As a licensed and bonded car shipping broker with the Federal Motor Carrier Safety Administration, we are committed to providing you with excellent customer service.
Call Metti International today at 866.620.1776 or request a quote online. You can also visit our website at www.mettiintl.com.