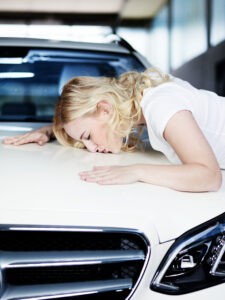 It is very important that a through inspection of your vehicle is done by you when the carrier delivers. When the carrier picks up your vehicle, the driver performed a detailed vehicle body examination. Then, the driver records it on a "Bill of Lading". It is also advisable that you take pictures of your vehicle in front of the driver at this time . We have posted what a Bill of Lading looks like in previous postings.
At the time of your vehicle delivery, the carrier performs another inspection to verify that no damage was done since the vehicle was in their possession. During the delivery vehicle inspection, this is where you get out the Bill of Lading that was filled out at pick up and make a comparison.
If you see any difference or damage during the delivery vehicle inspection, this is the time to act. Have the driver acknowledge the damage on the Bill of Lading and get a copy of his insurance. Take pictures on both pick up and delivery, preferably with the driver in the picture performing his vehicle inspection.
It is important to know that damage is very rare and the carriers have been vetted for on time delivery and no damage being reported.
Metti International is Here to Help
Metti International is your professional and reliable car shipping broker to meet all your car shipping needs. We are a licensed and bonded car shipping broker with the Federal Motor Carrier Safety Administration.
We have a track record of excellent customer reviews. Our years of dedicated and top-notch car shipping services won us the BBB Torch Award. We only use carriers with 95% or higher service ratings. At Metti International, we provide easy, safe and smooth auto transport experience.
Contact Metti International today at 866.620.1776 or request a quote online. For more information, kindly visit our website at www.mettiintl.com.