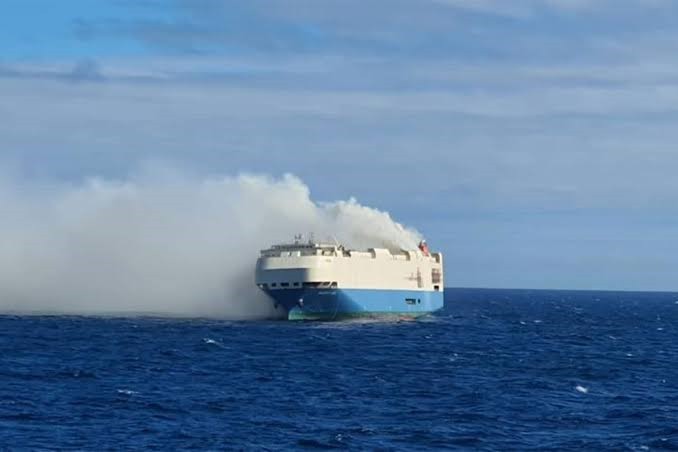 On February 16, the Felicity Ace caught fire en route to the United States. According to Volkswagen's estimates, the 650-foot, 60,000-ton cargo ship was transporting 4,000 of the world's most expensive car models. The cars on board the cargo ship included 1,000 Porsches, 189 Bentleys, and an unknown number of Audis. The luxury cars were left floating over the Atlantic Ocean when the fire broke out.
The Portuguese navy reported that the Felicity Ace went ablaze on Terceira Island in the Portuguese island province of the Azores on Wednesday morning. According to VesselFinder, a ship monitoring service, the vessel left Emden, Germany, on February 10 and was due to arrive in Davisville, Rhode Island, after a 13-day voyage.
The Cargo Ship Burned for Days Causing Millions of Dollars Worth of Damages
The ship was reported to have burned for six days. According to the Portuguese navy, all 22 crew members were rescued by helicopter. Thankfully, the fire did not hurt any of the crew members. A spokeswoman for Porsche North America, Angus Fitton, told The Washington Post that "a number of our autos are in the shipment." Fitton added that the company is "doing everything we can to assist our customers and dealers in finding answers."
It's unclear how many luxury vehicles on board were destroyed in the fire, but it's likely in the millions of dollars.
Matt Farah, an editor at The Smoking Tire, tweeted that he's been waiting since August for his 2022 frozen-berry metallic Boxster Spyder, which is expected to cost around $123,000. On February 16, he wrote, "I received a call from my dealer just now. My car is currently floating in the middle of the ocean, possibly on fire."
Up till now, the cause of the fire has yet to be determined. According to a statement subsidiary of Mitsui OSK Lines Ltd in Singapore, "there is no oil leakage from the vessel."
How Customers Will  Be Compensated for the Cargo Ship's Damage?
There is hope for clients that are awaiting these vehicles. Commercial insurance coverage for auto manufacturers and shipping businesses would cover their losses.
Those whose automobiles have been lost at sea can choose to resubmit the order, keep their payment, and wait many months for the next shipment. Likewise, they might cut their losses and order something completely different.
In an email, Porsche spokesperson Marcus Kabel said, "We are immediately working to replace every car affected by this occurrence. The luxury cars will be as close to their original, ordered specifications as possible." The fire is projected to cost the brands involved a total of $155 million in damages.
A spokeswoman for Lamborghini declined to comment on how the Italian firm would deal with the losses. A Bentley official confirmed that the ship has 189 Bentley cars on board, and those customer cars will be replaced first.
Metti International Is Here To Help you Ship Your Luxury Cars
According to Kabel, Porsche will reimburse the deposit if the order is cancelled. Though "most clients are looking forward to receiving reordered automobiles," he says. One such client is Matt Farah, who has reordered his preferred model of the luxury cars.
We recommend customers ship their luxury cars from major metro areas rather than remote locations. This is because it is challenging most carriers find it difficult to get vehicles when returning. Additionally, carriers find it easier to ship clients' cars from major sites than from remote locations during pick-up and drop-off.
Metti International Car shipping company is proactive in executing shipping operations with ease for the benefit of consumers. Also, we are a licensed and bonded car shipping broker with the Federal Motor Carrier Safety Administration. As a three-time finalist with the Better Business Bureau (BBB), Metti International is the top choice for your vehicle shipping needs.
Call Metti International today to schedule your auto transport at (866) 620-1776 or to speak to a sales representative. Contact us today to get an instant quote. For more information, you can also visit our website at www.mettiintl.com