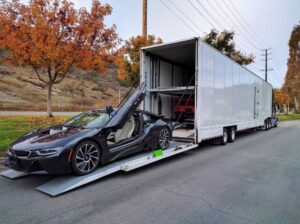 It can be overwhelming relocating to another city and having to move your car to your new home. For first time shippers, selecting the best car carrier could be a daunting process. However, hiring an auto transport broker will relieve you of all that stress. Brokers are the brain behind the whole transportation process. They make car shipping a seamless one by connecting you with an excellent auto transport carrier.
A car shipping broker is responsible for creating shipping plans, organizing and managing the shipment process. Brokers bridge the communication gap between customers and auto transport carriers. They are the perfect middlemen between you and the car transport carriers. Below are the reasons why you should hire a broker to help you find the best auto transport carrier.
Pick-up and Drop-off Locations
Car shipping brokers consider easier routes for car carriers to aid a hitch-free delivery. They ensure smooth car shipment. At Metti International, we recommend you select major metro areas as your pick-up and drop-off locations than remote locations.
Timeframe
Car carriers may not be able to attend to your car needs when they are far away from your locations. However, brokers can easily connect you with car carriers that are nearer to your location. Hence, both pickup time and delivery are faster.
Auto Transport Carrier Method
There are two major auto transport methods for domestic shipping. Open carrier transport, which is the most common transport method for normal cars, is usually less expensive. The enclosed carrier transport is a more secure but expensive means of car shipping and is more often used for exotic and luxury cars.
When considering the vehicle to be transported, auto brokers arrange an auto transport carrier with the appropriate equipment, resources and experience to handle your car. Furthermore, the services rendered by car carriers differ. Some offer door-to-door car shipping while others deal with terminal-to-terminal car shipping. Your choice of car shipping method guides your auto transport broker when hiring an auto transport carrier for you.
Auto Transport Carrier Cost
Most auto transport brokers work with an extensive number of car carriers. Therefore, they get the best prices for you in terms of shipping costs. It's as simple as it sounds. You will get the best price for auto shipping when you leverage the expertise of a broker.
Vehicle Type
Most brokers consider the type of vehicle to be transported when considering the best car transport carrier for you. For instance, shipping an inoperable car, a luxury or exotic car can be more demanding hence, it requires expertise and a number of resources. Car shipping brokers know the appropriate auto transport carrier for your vehicle type while also considering your budget.
Vehicle Size
Large-sized vehicles are not easily navigable during transportation, especially if your drop-off location is within a narrow street.  Moreso, shipping large vehicles is more cost-intensive than smaller ones. As such, the broker finds the best auto transport carrier that can adeptly handle your vehicle size.
Metti International is Here to Help
Are you going on an extended break or your're planning to relocate to another city? Do you need to ship your car? Then, Metti International has got you covered. Metti International is a trusted and reliable auto shipping broker. We are BBB accredited and a three-time award winner for the torch award for ethics.
Metti International also works with an extensive network of car carriers. We are the best choice for your car shipping needs. Our core commitment is to serve our clients in the best way possible and to provide the utmost satisfaction.
Call us today at 866 620-1776 to get an instant quote and schedule your auto transport. For more information on our services, visit our website at www.mettiintl.com