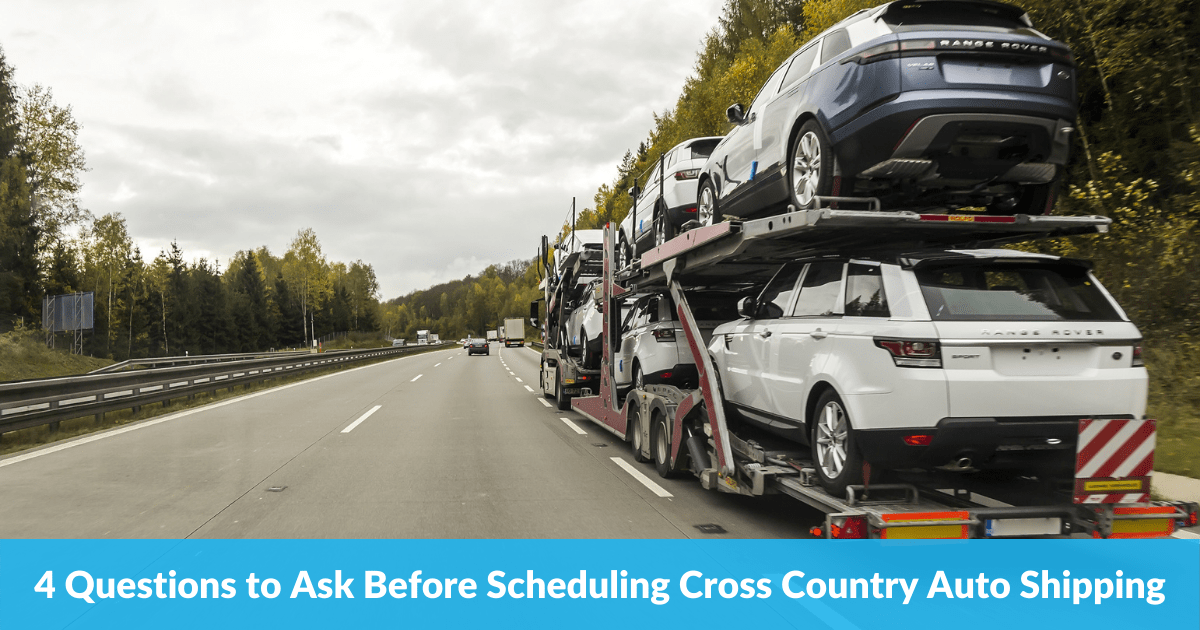 When you're preparing to schedule cross country auto shipping, chances are you have some questions about the process. Today we're answering four of the most common questions related to shipping a vehicle cross country. 
What Type of Transport is Best?
The most popular and affordable cross country auto transport is an open carrier. It's also the most economical method of auto transport, which can be beneficial if you're looking to keep costs low. Your car will be loaded onto an open carrier with seven to nine other vehicles, depending on their size of your car.
What Determines the Cost of Cross Country Auto Transport? 
There are a few key factors that help to determine how much you'll pay to ship your vehicle.
Vehicle make and model
Type of Preferred Shipping
Distance Traveled
Scheduled Shipping Date
Can I Store Personal Items in The Car?
No, it's recommended that you don't leave any personal items in your vehicle during the transport process. Any belongings that are left in the car are not insured, and the carrier will not be held for any lost, stolen, or damaged items. 
How Do I Prepare My Car For Cross Country Auto Transport?
There are a few ways to prepare to ship your car before the carrier arrives to ensure a smooth transition. 
Complete a self-inspection before your ships and do another one when your vehicle arrives at its final destination. This will ensure that it's in the same condition. Make sure to take before and after pictures, so you're able to document any damage that occurs during the shipping process.
Leave a ¼ tank of gas inside your car so the auto carrier can easily load and unload your car. 
Give one set of keys to the driver and keep a spare for yourself. Do not give both sets of keys to the carrier.
Metti International Is Your Trusted Auto Transport Broker 
We use our experience and expertise to provide exceptional service to help make it easy to ship a car cross country. As a two-time finalist for the "Torch Award Finalist" by the Better Business Bureau for Ethics (BBB), we have proved that we go above and beyond to provide our customers with exceptional service.
Call Metti International for a free quote today at 866.620.1776!