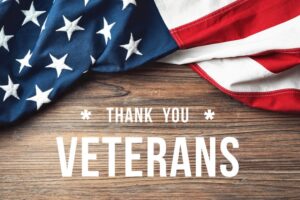 America was founded on the valiant efforts and patriotism of military veterans in the country. These veterans have served proudly in our Armed Forces in honorable service and dedication to the nation.
At Metti International, we are expressing our gratitude to all military veterans and their families. We are also celebrating Veterans Day in honor of the efforts and sacrifices made by the United States Armed Forces.
Veterans Day holiday celebration began at the end of the First World War. The holiday took effect after a peace treaty was concluded at the 11th hour of the 11th day of the 11th month. It marked the end of the major fight between World War I allies and Germany in 1918. Now, November 11 is known as Veterans Day to honor all military veterans, not just those who served during the Great War. It is a federal holiday in the United States observed annually on November 11 for honoring all military veterans who served in the United States Armed Forces.
While we celebrate Veterans Day, you can also show respect and support for members of the military. Firstly, you can observe this Veterans Day by flying the U.S. flag. Furthermore, attend the Veterans Day parade, or just hug a family member who served in the military.
To all our veterans and military families, we celebrate you. Thank you for your honorable service!