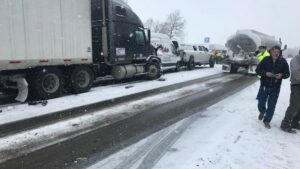 Well it's winter and traffic in most of the United States can become quite perilous at times, which can also affect your car shipping experience. Holidays starting with Thanksgiving all the way thru to the New Year celebrations also puts pressure on auto shippers since many drivers take time off to be with their family and friends.
Our experience over the years show that the first concern of drivers for car carrier companies is their safety and the safety of the vehicles they carry on their auto hauling trucks.
We at Metti International always give our customers the contact names of the carrier companies dispatcher and whenever possible the driver's name and number too.
It is always recommended that you talk with the driver at the pick up end to see when the approximate delivery date will be. They normally call one day and also a couple hours ahead before picking up and delivering your vehicle.
We have mentioned this process in previous postings and blogs that the customer at the pick up end should take pictures of the vehicle during the driver's inspection. When he records his inspection on a "Bill of Laden" (BOL) take close up pictures of any dings, dents and scratches that he marks down. Share this information with the person on the receiving side of the shipment. All of these minor steps will make for a better car shipping experience.