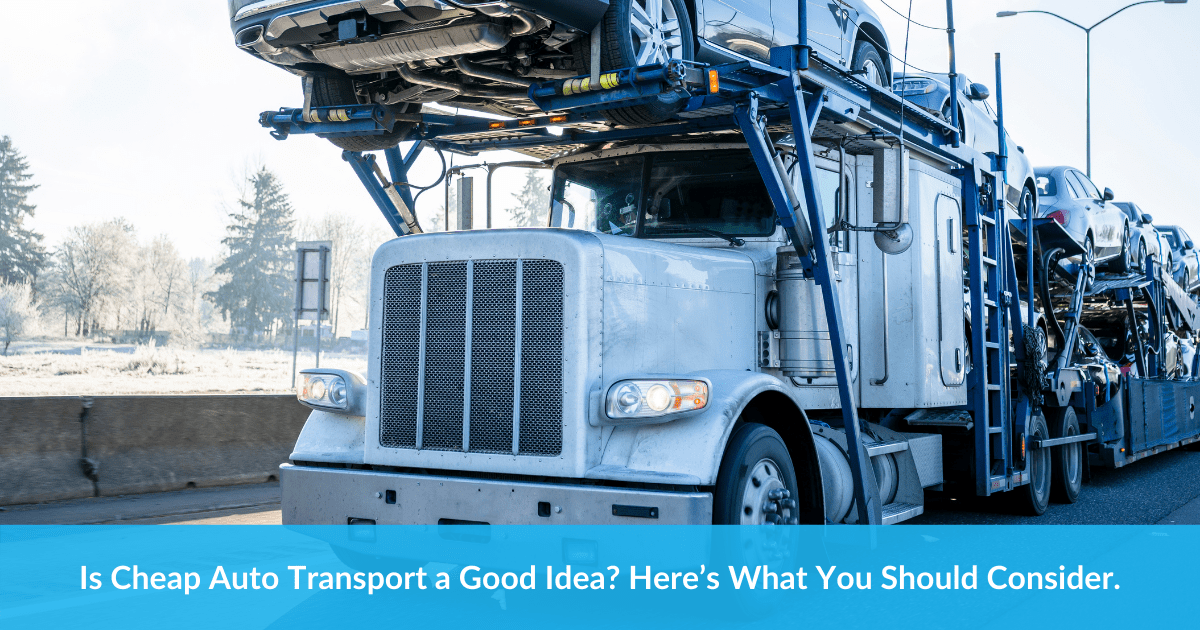 Cheap auto transport isn't always the best option. Quality should come first, especially for your vehicle. How to save money on car shipping is a common thought nonetheless, you should evaluate your options to ensure that you entrust your vehicle with a reliable and safe auto transport company. 
Some car transport companies make too-good-to-be-true offers. However, companies who offer extremely cheap auto shipping quotes are a major red flag. Before making any auto shipping decisions, you need to consider getting the best value while still getting top-notch auto transport service and quality. This blog will guide you to avoid auto shipping scams and to know if a company's cheap auto transport quote is best suited for you.
Why Avoid the Cheap Auto Transport Options?
While cheapest shipping option has the appeal of saving you money, there are other factors to consider in making your decision. Choosing to ship your car at extremely low shipping costs often results in selecting a lower-quality shipping company. This means that the experience you have might not be all that you're expecting.
Auto shipping companies that offer cheap auto transport often have poor customer service, no insurance coverage, and fail to meet delivery requirements. This could result in you having an awful car shipping experience. To avoid these issues, its best to consider using a reputable and professional company offering great auto transport services.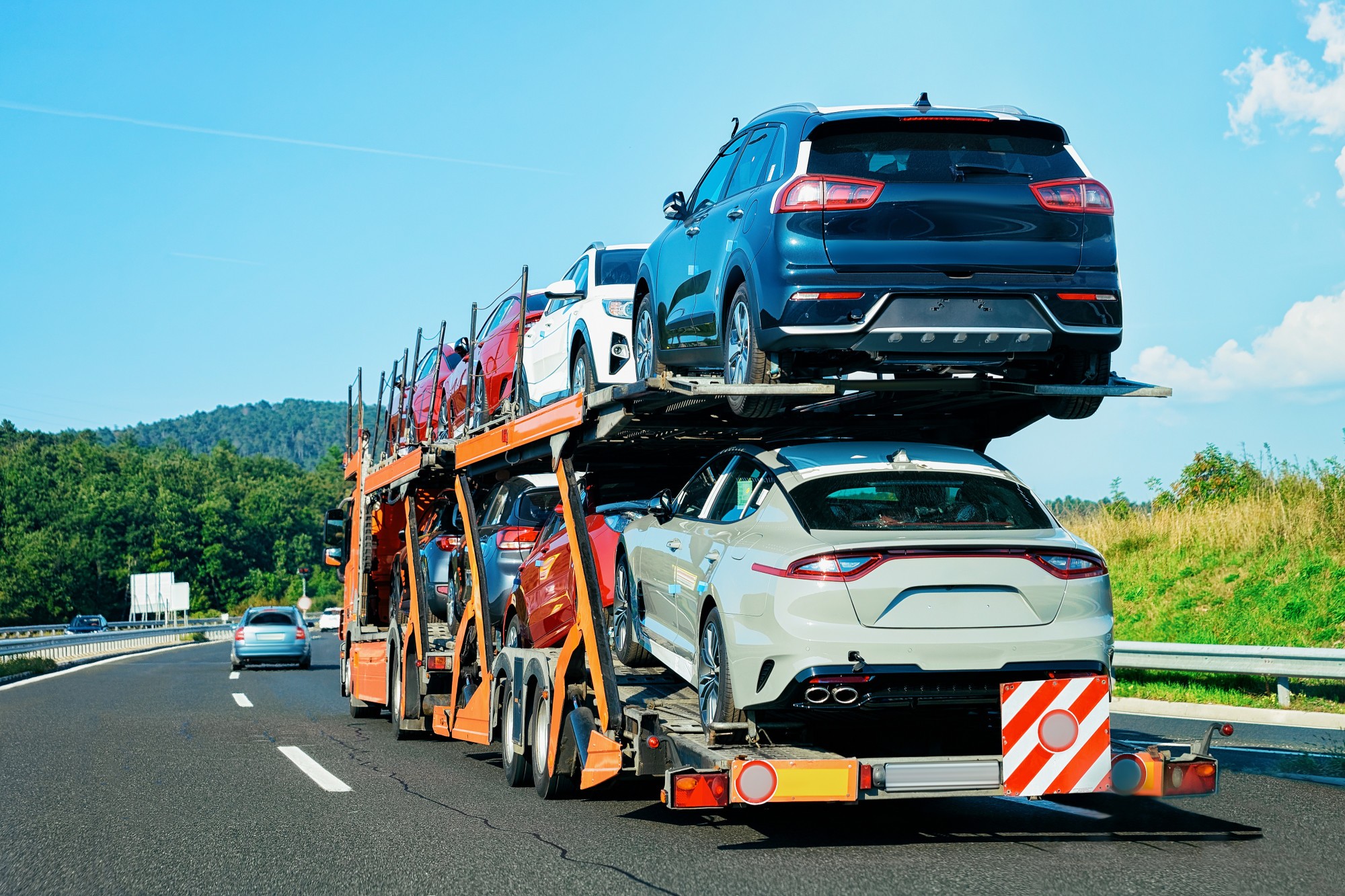 How to Know Auto Companies to Avoid
There are auto companies to avoid when shipping your car. If you are not careful, you can fall prey to their scheme, which might cost you spending beyond your budget. Are you shipping your car for the first time and confused about the car shipping company to use? Pay attention to the following key red flags to know auto companies to avoid when shipping your car.
1. Extremely Low Price
Car shipping brokers who quote unbelievably low prices for car shipments are major red flags. In reality, most car carriers won't move cars priced too low. However, it does not mean you should ignore the lowest quote. You can request quotes from auto transport companies but keep in mind that cheap auto transport may not always be the best service.
2. No Business Address or Identity
The lack of business identity is the easiest way to spot a red flag from any potential car shipping company. If you want to ship your car, you need to employ the service of a reputable, reliable, and well-experienced auto transport company. At Metti International, we understand that cars are high-value assets. Our focus is to ensure the safety of the vehicles from pick-up to drop-off. Ensure you thoroughly research the car shipping company handling your shipment process.
3. Guaranteed Pick-up and Delivery Dates
While most car carriers do their best to meet pick-up and delivery expectations, they also face unexpected road delays. The delay could be due to harsh weather conditions, truck breakdown, traffic, or late customer pick-ups. A car carrier with an exact, guaranteed pick-up date and time is a red flag. 
4. No Inspection or Bill of Lading
Another red flag is if the driver does not carry out any inspection of your vehicle. When the carrier arrives for pick-up, initiating a vehicle inspection and filling out the bill of lading report is essential. Ensure you and the car carrier take note of any dent or damage to the vehicle before shipment. Verifying your car and the car carrier has adequate insurance coverage before car shipping is vital.
7 Ways to Know the Right Car Transport Company to Ship My Car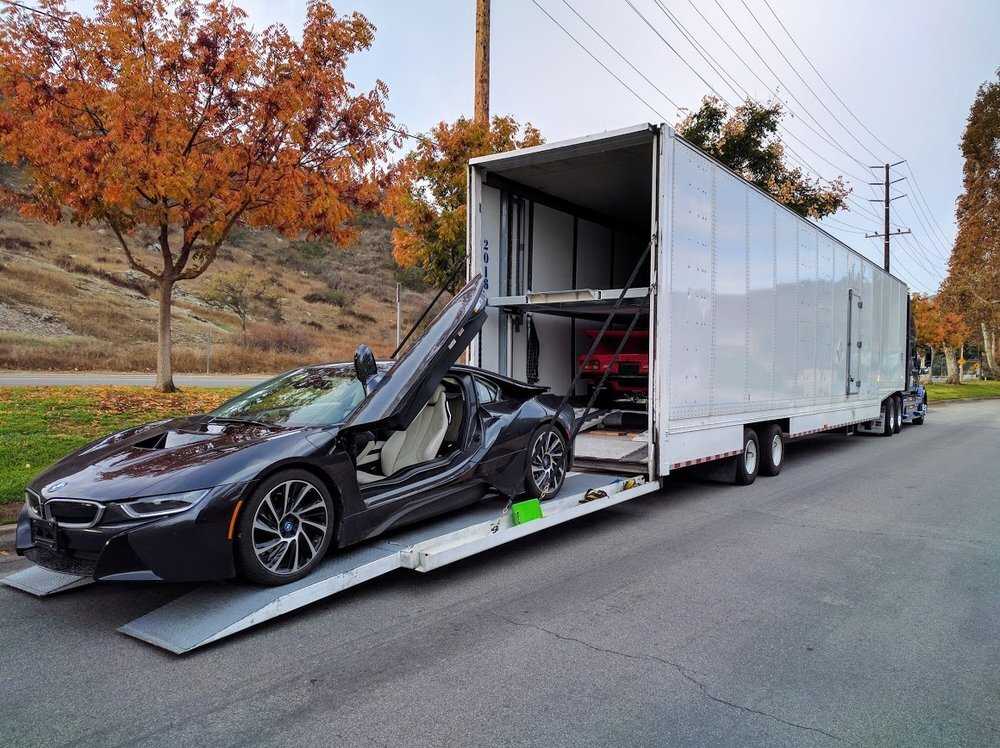 Car shipping can be a strenuous process, especially for newbies. You will find several shipping companies offering cheap auto transport when trying to ship your car. But, it's important to find the one that perfectly suits your car shipping needs.
Here are distinct features of a good car shipping broker:
1. Experienced
The best car shipping brokers are highly experienced in the auto transport industry. They have a network of trustworthy car shipping carriers that they work with consistently. So, you don't have to go through any disappointment during your car shipment.
2. Registered
You should always verify the car shipping company you intend to use. There is a regulatory body for auto transport companies like The Federal Motor Carrier Safety and Administration (FMCSA). Auto transport companies to avoid are companies that aren't registered with the (FMCSA) or BBB verified. If you have trouble with a car carrier, you can file a complaint against the mover with the FMCSA.
3. Excellent Rates – Multiple Quotes
Most car shipping brokers work on a grand scale. They provide bulk orders to car carriers to get the best prices for their customers. With a car shipping broker, you will get excellent rates.
Another great thing is that you can choose the best price from multiple company quotes. You don't have to worry about hidden fees, as the car shipping broker will give you the exact price for your shipment.
4. Reliability
Delays or sudden cancellation by car carriers happens quite often. It can be a result of a truck breakdown or other sudden occurrences. However, making use of car shipping brokers can make all the difference.
Car shipping brokers have always got you covered. They are more meticulous in selecting the right car shipping carrier. They can easily find another one for you whenever a car carrier fails to meet your needs promptly. Go for a car shipping broker with excellent track records, great customer reviews and they will provide you with highly reliable service.
5. Top Notch Communication
Some car carriers find it difficult to keep up with communication during car shipments. Due to this issue, you can employ the services of a reputable car shipping broker. Good car shipping brokers are the perfect middlemen between you and the car carriers. They will ensure smooth communication between you and the car carriers throughout the shipment process. The car transport company will also ensure you have peace of mind and your car arrives at its destination safely.
6. Exceptional Customer Service
Good auto transport companies are concerned about your satisfaction and getting your car to your desired destination. You will not only have access to exceptionally prompt customer service, but you will also get the best car shipping method options. This is regardless of your car shipping location or destination.
7. Good Online Customers' Reviews
Pay attention to previous client reviews and check out for the accreditation of the car shipping company. The Better Business Bureau (BBB) is concerned with advancing marketplace trust. To this effect, Metti International has been evaluated on the integrity and ethics of business dealings. The BBB has assessed Mettti International based on customer reviews and financial track record, amongst many other criteria.
We have been verified and recognized each time for our consistent, uncompromising pursuit of exceptional service to our clients.
What affects Auto Shipping costs?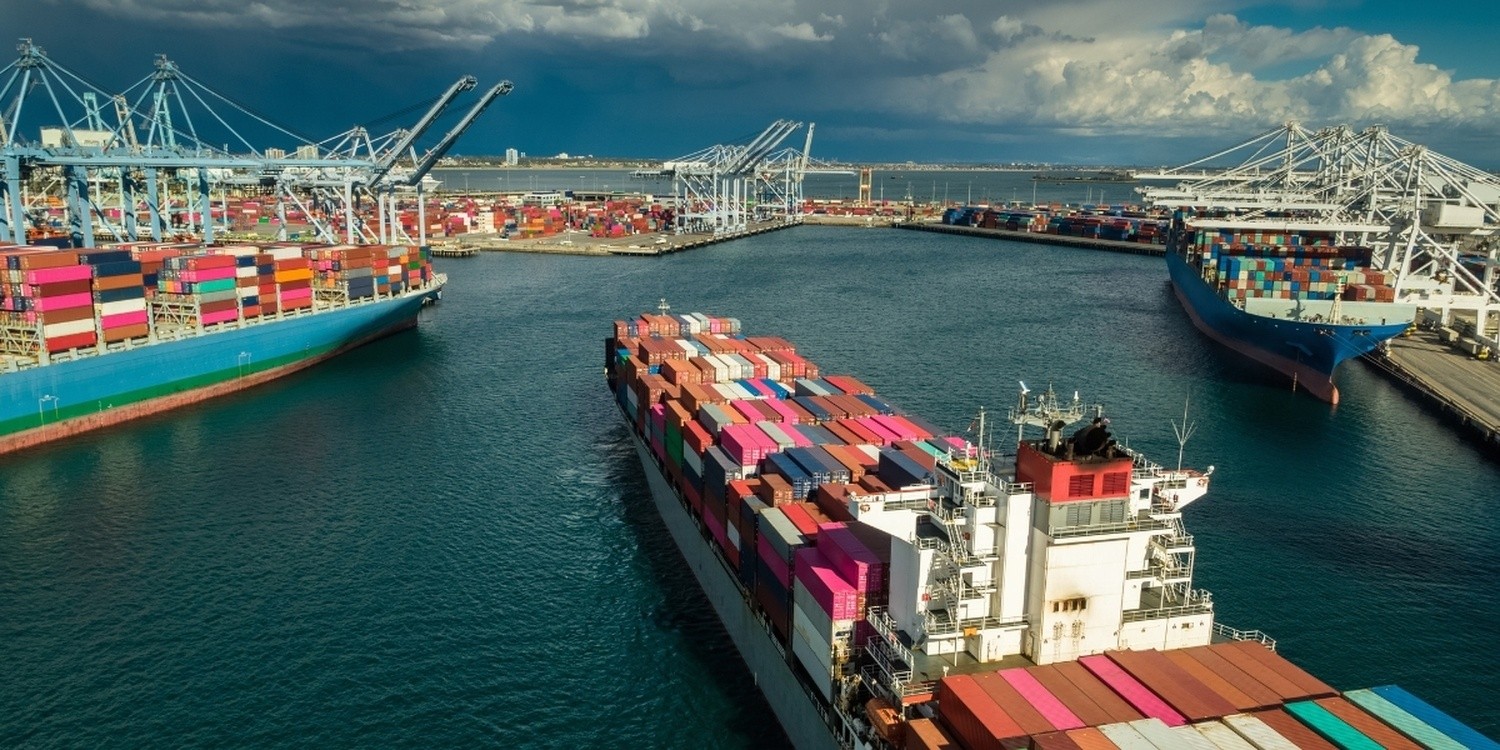 Many factors affect auto shipping costs from time to time. These factors also influence auto shipping quotes. They include:
Season
Distance
Location
Auto Shipping Type
Vehicle Condition
Vehicle Size and Weight
Shipping Time frame
When you contact us at Metti International, we will always inform you of everything you need to know. We will tell you everything you need to know about the cost of shipping your car. Likewise, we will update you about available discounts when you contact us.
How to Find a Cheap Auto Transport Near Me: 6 Ways to Balance Cost and Quality
Now that you understand some of the issues with cheap auto transport services, here's how you can balance the cost of shipping with quality service. 
1. Be Flexible with Scheduling Your Auto Transport
It is important to have a flexible schedule when shipping your vehicle. Having an incredibly strict deadline to meet could hinder your car shipping broker from planning adequately for your car shipment.
2. Ship More than a Car at Once
One major consideration for a competitive pricing offer is shipping your cars together at once if you have more than one vehicle. You save car carriers the time they'll use in retrieving cars from diverse places and from one terminal to another. Also, when shipping more than one car across states or countries, you might get discounts from auto shipping companies. Likewise, you reduce expenses on your car shipment if you use only one car shipping company for your auto transport. 
3. Consider A Budget-Friendly Quote
It is important to be cautious about the extremely good-to-be true quotes of car shipping companies. Some shipping companies offer cheap shipping prices but, have a bad reputation. Hence, do a background check on the car shipping company before making your choice. As much as you check if the car shipping company fits your budget, it is more important to ensure the company is BBB accredited. Also, check previous customer reviews before choosing a car shipping company that meets your needs.
4. Choose Terminal to Terminal Transport
If you're searching for how to transport your vehicle while saving money, consider terminal-to-terminal shipping. It'll cost less to drop off and pick up your car at the nearest terminal than to have it delivered close to your door. You can meet the driver at the terminal to drop off or pick up your vehicle. However, the auto transport process can be more smooth when there's adequate communication with the driver. Your auto transport broker can help to coordinate your car shipment from pick-up to drop-off.
5. Open Carriers Are Most Cost-Effective
Open carrier transport method can help save you money when shipping a car. With this transport method, a semi-tractor pulls a long, two-level trailer with room for 6-9 cars, depending on each vehicle's size. It's considered the most reliable, fastest, and most economical form of transporting a vehicle domestically. 
Open carriers are the cheapest way to ship your vehicle domestically. It is more affordable than the enclosed carrier auto transport method. You can choose an auto transport method that suits your shipping needs.
6. Ensure that your Car is Operable
Another way to save money is ensuring that your car is operable before the pick-up day. Inoperable vehicles require more skills from the car carrier and might require advanced technology to get them on the truck. So, to avoid the extra charges that come with inoperable vehicles, ensure your car is running before shipping.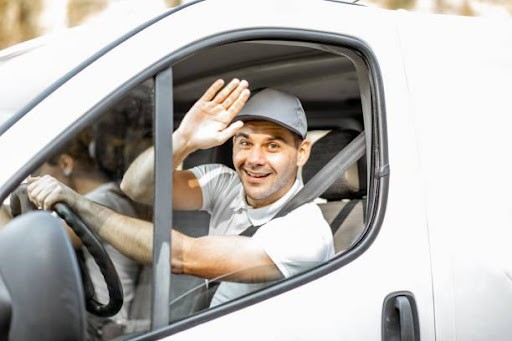 Work with a Trusted Auto Broker like Metti International
We understand you need to save on cost yet, get reliable and safe transportation for your vehicle. Metti International is a licensed and bonded broker with the Federal Motor Carrier Safety Administration and we are BBB accredited. We work with over 3,500 trusted car carriers throughout the United States to ensure you get the best price.
You can have peace of mind knowing that your vehicle is in good hands throughout the shipping process from pick-up to drop-off. 
Call Metti International today to schedule your upcoming car transport at 866.620.1776 or request a quote online. We look forward to serving you!