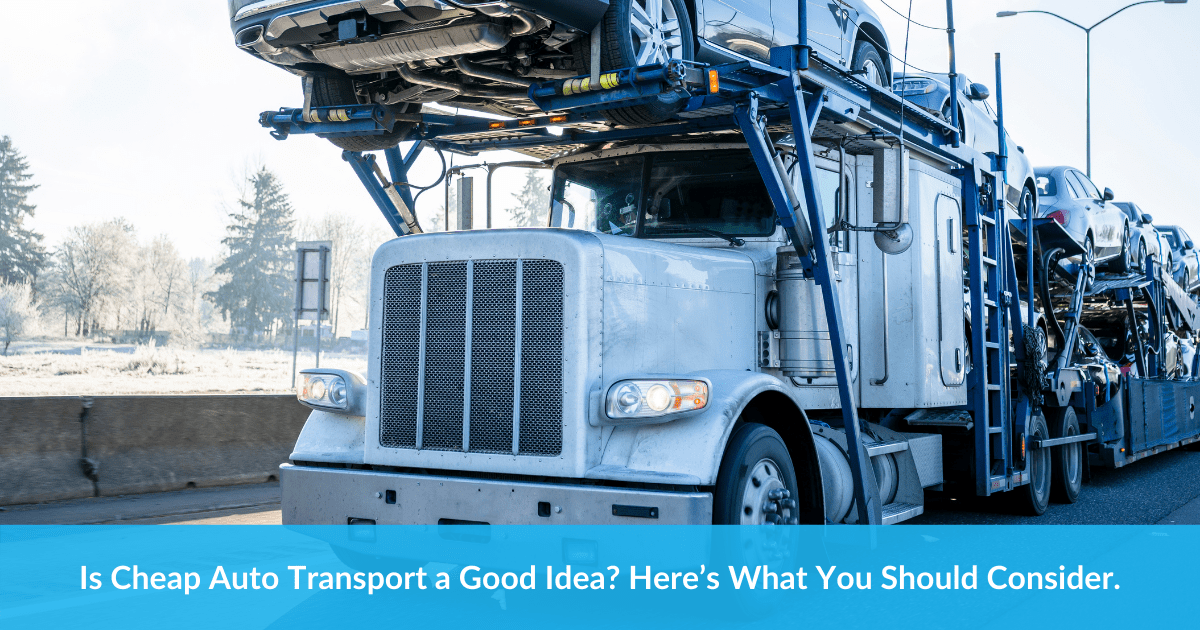 Cheap auto transport isn't always the best option. Quality should come first, especially for your vehicle. Although wanting to save money is a common thought, you should evaluate all of your options to make sure you're trusting your vehicle with a reliable and safe auto transport company.
Before making any auto shipping decisions, the below blog will help you think through a couple of ways to find the best value while still getting top-of-the-line service and quality. 
Why Avoid the Cheapest Shipping Options? 
While cheap auto transport has the appeal of saving you money, there are other factors to consider in making your decision. Often, choosing to ship your car cheap results in selecting a lower quality shipping company. This means that the experience you have might not be all that you're expecting. 
Cheap auto transport companies often have poor customer service, no insurance coverage, and fail to meet delivery appointments. These cause headaches for you, and can even have lasting consequences beyond your car's shipping experience. To avoid these issues, consider choosing a higher quality car shipping company.
3 Ways to Balance Cost and Quality
Now that you understand some of the issues with cheap transport services, let's talk about how you can balance out the cost of shipping with quality service. 
Use an Auto Broker
An auto broker like Metti International supports clients in finding high-quality, affordable car shipping options. We work with hundreds of auto carriers and will help you find the most affordable options that still provide quality service.
Be Flexible with Scheduling
Have a flexible schedule when shipping your vehicle. Having an incredibly strict deadline to meet (or a short, quick deadline) leads to issues. Flexibility will help alleviate issues no matter the cost of the service. 
Opt for an Open Carrier
Open carrier transport can help save you money when shipping a car. With this transport method, a semi-tractor pulls a long, two-level trailer with room for 6-9 cars, depending on each vehicle's size. It's considered the most reliable, fastest and most economical form of transporting a vehicle domestically. 
Open carriers are by far the cheapest way to ship your vehicle domestically. The carrier can transport multiple cars at once, allowing them to pass on the savings to you. It's also considered the most convenient way to ship your vehicle because there are so many open car carrier transport vehicles on the road that are ready and waiting to meet all of your shipping needs. 
We understand that finding a balance between saving money and finding reliable and safe transportation for your vehicle is important. Metti International is a licensed and bonded broker with the Federal Motor Carrier Safety Administration. We work with over 3,500 trusted car carriers throughout the United States to ensure you get the best price and have peace of mind knowing that your vehicle is in good hands throughout the shipping process. 
Don't wait! Give Metti International a call today to schedule your upcoming car transport at 866.620.1776 or request a quote online. We look forward to serving you!