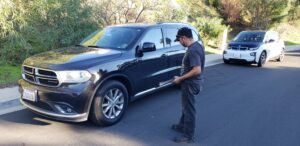 In getting your vehicle ready for auto-shipment, there are some essential things you need to do before the carriers arrive to pick up your vehicle. Here is a step-by-step guide you can take to prepare your vehicle for auto shipping. Follow these steps to ensure that your car arrives intact at your new home or designated location.
Clean Your Vehicle Before Inspection
You need to conduct a thorough inspection of your car as you prepare your vehicle for auto shipping. Firstly, clean your vehicle to get rid of every debris or dust and allow you to see any existing scratches on your car before shipment. Next, conduct your vehicle inspection in daylight and take photos for documentation. This way, you can detect any new damage that occurs during the auto transport service.
Remove All Personal Belongings From The Vehicle
Personal items packed in your car will not be insured. Also, the carriers are not liable for any theft or any damages. Remove all personal items including non-permanent items such as ski racks, roof racks etc.. prior to shipping your car. Endeavor to also retract any antennae present on the vehicle. Your belongings are also prone to seizure by the department of transportation. In addition, auto transportation companies could get a fine during inspection for moving your personal belongings in your car. Only 100 pounds of car related items is allowed in the car's trunk. This is not a company policy, but government's regulation. 
Adequately Perform Vehicle Maintenance
As you prepare your vehicle for auto shipping, ensure you examine your car battery to ensure it is charged and adequately secured. You also have the option of removing the car battery entirely. Disconnect and deactivate the alarms and other electronics in the car.
When preparing your vehicle for auto shipping, endeavor to check it several days before shipping for leaks of oils, fuel, or hydraulic fluids. Check your fluid levels and ensure they meet your vehicle's minimum requirements prior to shipping. Having about a ¼ tank of gas in your car at the time of pickup is recommended. It will make sure that there is enough gas to get your vehicle to its final destination. During your maintenance check, confirm that the tires are fitted correctly and ensure that you inflate the tires to the appropriate pressure.
Check for Insurance Coverage
When preparing your vehicle for auto shipping, check out your car shipping company's insurance policy. If you notice there is insufficient insurance coverage, you may request additional coverage in exchange for a fee. Endeavor to have an accurately signed bill of lading, then, mark out any damage at delivery on the bill of lading.
Make a Copy of Your Car Key
As you prepare your vehicle for auto shipping, don't schedule car shipping without making an extra set of keys. The spare key is to cater for a situation where the originals get misplaced while shipping your car. So, you can give a key to the driver and keep the other copy.
Choose a Car Shipping Method
It is best to schedule your car ahead for shipment and choose a transport method that perfectly suits your car needs. For example, you can opt for the open carrier auto shipping method, which is the most affordable option when shipping a car domestically. However, if you have a luxury or classic car, an enclosed auto transport method is best, although it is more expensive. Make sure your dispatcher also has an active number to contact you during the shipment process.
These simple steps above will help you to prepare your vehicle for auto shipping adequately.  If you're moving to a new city or location, Metti International is here to help. We are a licensed and bonded car shipping broker with the Federal Motor Carrier Safety Administration. At Metti International, we are committed to providing you with excellent customer service and an exceptional transport experience. As a finalist for the "Torch Award Finalist" by the Better Business Bureau for Ethics (BBB), we are here to help ensure your car shipment goes smoothly.
Call Metti International today at 866.620.1776 or request a quote online. You can also visit our website at www.mettiintl.com.