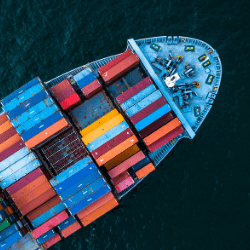 If you plan to ship your car internationally, you can choose from these two frequently used options- RORO (Roll-on/Roll-off) and Containerized Auto Shipping. These two car shipping methods are the most secure and safe means of shipping your vehicle. Shipping internationally requires some amount of paperwork and ensuring that all auto transport laws are strictly followed. However, it is essential to know the main differences between these two auto shipping services before deciding to ship your car.
RORO transport is the simplest, fastest and most cost-effective method to ship your vehicle. Although it's the most convenient for its consumers, it is not always available in most country's ports. So, most people prefer using the overseas containerized auto shipping method. You can choose to ship your car in a 20-foot container or consolidate it with other vehicles in a 40-foot container.
Shipping with RORO auto shipping method from the U.S. can be from the major ocean ports such as Los Angeles, Savannah, Miami, Houston, Seattle, Charleston, Jacksonville, New York and New Jersey. Overseas destinations also include main ports in Western Europe, Mediterranean, Africa, Asia, Central America and South America, Australia & New Zealand.
Cost of Auto Shipping
One main difference determining the choice of car shipping method between RORO and Containerized auto shipping is the cost. RORO auto shipping method is usually more cost-effective than the containerized auto shipping method. If you choose to ship your car through containerized auto shipping, you have a broader shipping option. The cost of shipping your vehicle through overseas container auto shipping depends on whether you choose an exclusive or a shared container. However, exclusive container auto shipping is more expensive than shared container shipping.
Condition of Car before Shipping
If you choose to use the RORO auto shipping method to ship your car, the vehicle needs to be in running condition. You also have to drive your vehicle onto the sea freight carrier and also off it. RORO has a straightforward loading process. Your car battery needs to remain connected with enough gas left to drive the car on and off the vessel. Additionally, it would be best if you planned to leave a copy of the car keys with the shipper. The vehicle is "rolled on" from the desired port and "rolled off" the ship at the exact destination. You can drive your car off immediately after it arrives at the port once your car arrives at your desired destination
With container shipping, your car is stored in an open or closed container placed onto the ship. You can ship your vehicle even though it is not in running condition through the containerized car shipping method.
Shipping Personal Belongings
RORO ocean freight carrier can handle all types of vehicles. Although with RORO auto shipping, the car owner cannot ship their personal belongings along with the car. On the contrary, with containerized auto shipping you can transport your spare tires and some other items along with the vehicle.
Fixed Arrival and Departure Dates
RORO shipping guarantees reliable departure and arrival dates which is not the case with container shipping. It also provides minimal preparations for your vehicle. RORO does not have global routes like the containerized shipping method so, you have to check its availability to the destination of your choice before shipment.
If you're moving to a new city or need to ship your car internationally, Metti International is here to help. We are a licensed and bonded car shipping broker with the Federal Motor Carrier Safety Administration. At Metti International, we are committed to providing you with excellent customer service and an exceptional transport experience. As a finalist for the "Torch Award Finalist" by the Better Business Bureau for Ethics (BBB), we are here to help ensure your car shipment goes smoothly.
Call Metti International today at 866.620.1776 or request a quote online. You can also visit our website at www.mettiintl.com.