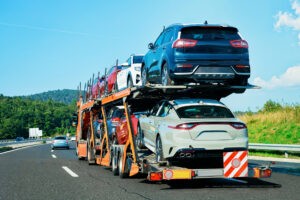 The holiday season kicks off with a crucial stretch this Thanksgiving weekend and traffic congestion is bound to increase. More people are hitting the roads and reuniting with loved ones in cities across America for the Thanksgiving holiday celebration.
Thanksgiving Holiday Travel Predictions
There are projections of traffic congestions which will be two to four times more than what is obtainable on major roads. The American Automobile Association (AAA) predicts that Thanksgiving travel will reach pre-pandemic levels, with an estimated 53.4 million people hitting the roads. In comparison to last years thanksgiving holiday, the airports and roads will be more crowded by a 13% increase. Travelling by car is still the most popular choice for travel. However, a more significant share will travel by air this thanksgiving.
Holiday Season in the Auto Shipping Industry
With the U.S. borders recently reopening to vaccinated international travelers, there would be even busier roads and airports. "Thanksgiving is one of the busiest holidays for road trips and this year will be no different," says Bob Pishue, Transportation Analyst. 
Drivers around major metro U.S. areas like Atlanta, Chicago, Los Angeles, and Houston need to prepare for significant delays. With the supply chain disruptions, truckers will also have more cars to contend with on U.S. roads.  However, the government is also taking appropriate measures to alleviate the congestions this holiday season. 
Despite the urgency to meet consumer demands this holiday season, there is a general slowdown in the auto shipping industry. Presently, there are container backlogs and congestion at the ports. The auto industry is also experiencing truck driver shortages. So, if you are travelling this holiday season, making plans ahead for your holiday car shipping  is essential.
At Metti International, our goal is to stay proactive in dealing efficiently with the holiday season's challenges.  As a licensed car shipping broker with the Federal Motor Carrier Safety Administration, we offer a safe, timely, and smooth transport experience. Metti International is  a three-time award-winner of the BBB Torch Award for Ethics with A+ rating. We work our best to provide excellent and satisfactory car shipping services across the country.
Would you like to request an instant quote or schedule your auto transport? You can call us today on 866.620.1776 or visit our website at www.mettiintl.com/